Upcoming events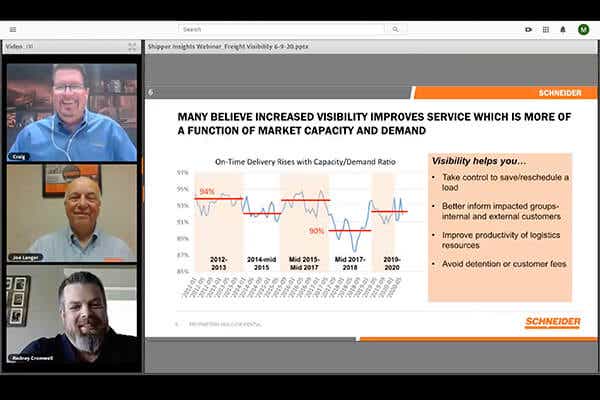 Virtual Event
Benchmarking the freight visibility experience
Part of our benchmarking series, this webinar provides you an opportunity to stay on top of industry trends and solutions, as well as gain insights into how your transportation peers are solving their challenges.
On Demand Recording
American shipper webinar
A cross-border panel from Schneider, CLC Solutions and Carrier Corp. join the latest American Shipper webinar to discuss how to position yourself as a shipper of choice, as well as the traits to look for when selecting a cross-border carrier.
On Demand Recording
Stay on track through – and beyond ‐ the COVID-19 supply chain disruption
Our country depends on our supply chain professionals and transportation carriers to adapt and keep goods moving. Now more than ever, it's important to anticipate your long-term transportation strategy to keep your supply chain on track through – and beyond – the COVID-19 disruption.
Drive your business forward
Sign up to receive our industry leading newsletter with case studies and insights you can put to use for your business.