The Grove Innovation Center
It's Schneider's new, state-of-the-art space dedicated to reimagining the future of the transportation and logistics industry by collaborating on the challenges of today and tomorrow.
Staying ahead calls for constant innovation
Schneider has always been dedicated to investing in the future. Now, that dedication got 20,000 square feet bigger. The Grove, a new building on our main campus in Green Bay, Wisconsin, is a space for big thinking about all things shipping.
The building design features a progressive working environment, ten collaboration spaces, a premier conference room ("The Nest"), a serene pond with native species and a whole lot more – all to continue the Schneider tradition of being ahead of the curve. When the next industry game changer hits, don't be surprised if it came from The Grove.
The Grove is really about our aspirations as a company as we think about evolving, adapting and innovating.

Mark Rourke, Schneider President and CEO

Focused on sustainability
The Grove is a physical manifestation of our commitment to sustainability. That's why we built it with an eye toward being green and filled it with difference-making features.
Geothermal heating and cooling

Smartflower solar energy units

Efficient exterior glass and interior lighting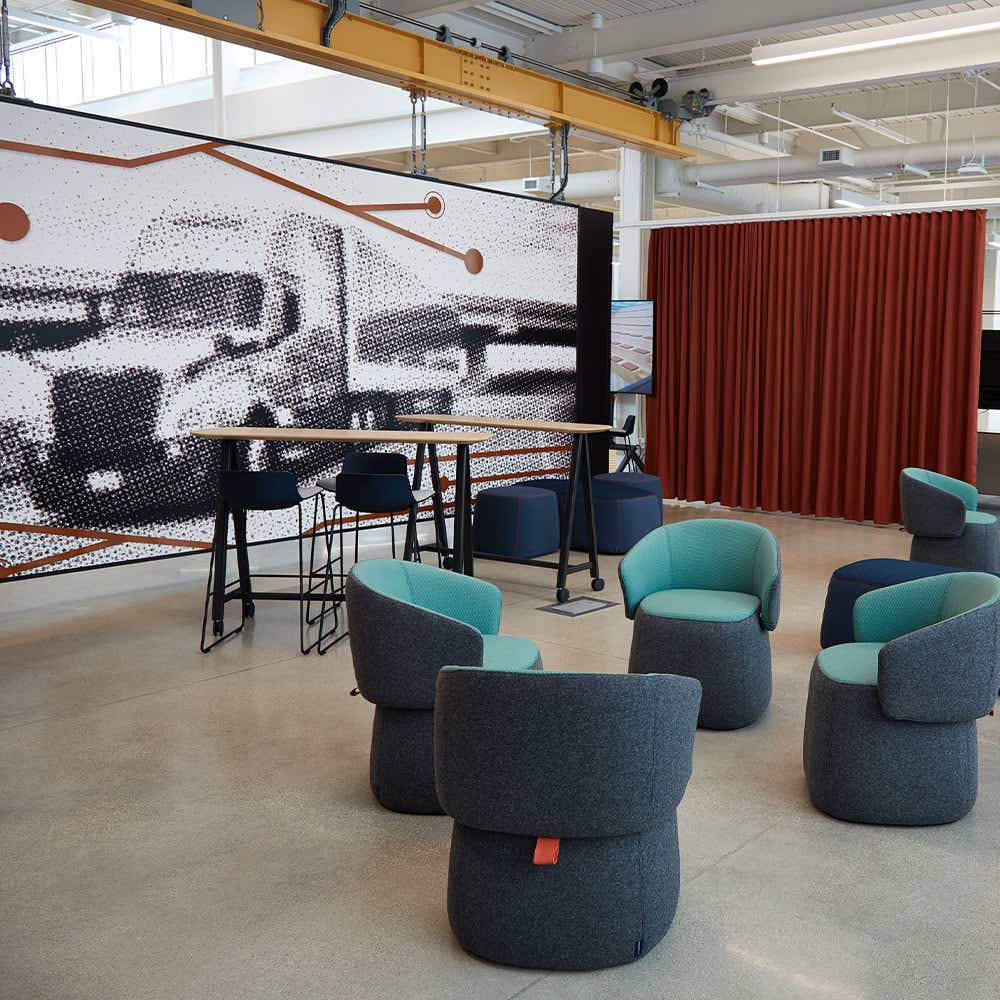 From The Grove to the road
Innovation impacts Schneider on every level – our drivers, shippers and all the people in between. Whether we're evaluating the effectiveness of new tech or reimagining the future, our work at The Grove is all about pushing what's possible. If that's what you're about too, you're in the right place.
Hear what others are saying about The Grove
"I was honored to be chosen to represent a section of drivers at The Grove to discuss something as important as fuel compliance. I felt privileged to be a part of the project that helps us reach our company goals."
– Fred Bolden
Schneider Driver Ambassador and Bulk Driver
"Holding our Kaizen at The Grove — away from our everyday work environment — enabled our team to have open and collaborative discussions. The unique space fostered focus and different thinking, driving us to develop new solutions."
– Sara DuQuaine
Director of Commercial Marketing, Schneider
"We really appreciate the opportunity to meet with Schneider at The Grove. A lot of learning usually comes from these meetings, and we bring back plenty of information to our team."
– Daniel Zisler
Senior Manager of Transportation, Sprouts Farmers Market, Inc.
Always leading the charge to find tomorrow's solutions
It's more than just The Grove. When you work with Schneider, we're finding ways to innovate for every business, no matter where and no matter when.
Talk to an expert
Why Schneider