Schneider Executive Vice President and Group President of Transportation and Logistics set to retire in April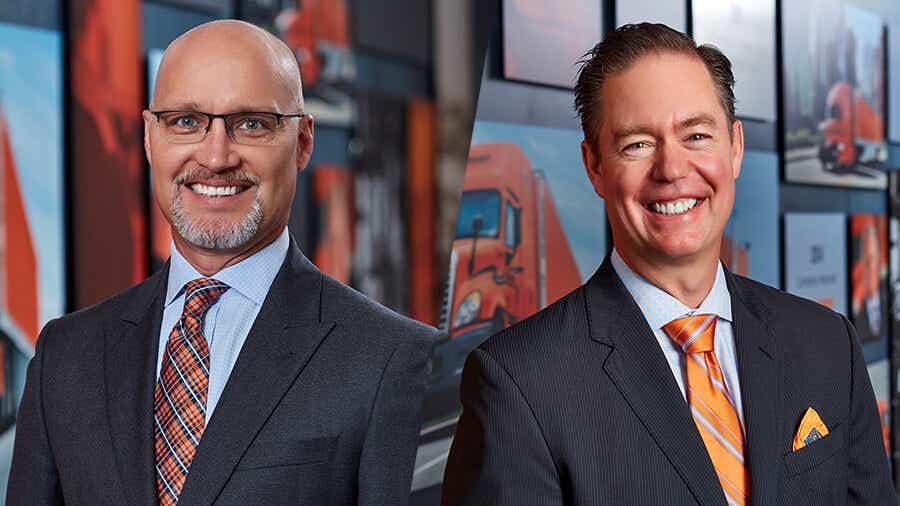 Chief Commercial Officer named as successor
GREEN BAY, Wis. (March 24, 2022) – Schneider (NYSE: SNDR), a premier multimodal provider of transportation intermodal and logistics services, announced today a transition on the company's executive leadership team as Executive Vice President and Group President of Transportation and Logistics Dave Geyer plans to retire next month.
Geyer has had a highly distinguished 35-year career at Schneider and has served as Schneider's executive vice president the past four years. He played a significant role in executing Schneider's growth strategy during his tenure. "Dave is an extraordinary executive, and his leadership has been instrumental in shaping our organization to what it is today," said Schneider President and CEO Mark Rourke. "I am extremely grateful for his dedication and wish him the best in retirement."
"It has been my privilege to serve Schneider for over three decades," said Geyer. "I am proud of where the company is heading, and I'm looking forward to devoting time to the next stage of adventures in front of me."
Chief Commercial Officer and Senior Vice President of Intermodal Jim Filter has been selected to succeed Geyer as executive vice president and group president of Transportation and Logistics. In his new role, Filter will oversee the company's operations, commercial sales, marketing and logistics segments.
Filter has led Schneider's Intermodal segment since 2015. Under his leadership, the company's Intermodal operations saw substantial gains in revenue and earnings performance. In early 2021, Filter's responsibilities were expanded to include chief commercial officer duties. He also previously managed Schneider de Mexico, where he delivered solid results for Truckload and Intermodal cross-border operations.
"I am honored to be named executive vice president and group president of Transportation and Logistics," said Filter. "Dave has been an exceptional mentor and set Schneider up for success." Filter will assume executive vice president and group president of transportation and logistics responsibilities on April 15.
To learn more about Schneider visit, schneider.com.