Schneider expands with purchase of New England based Dedicated carrier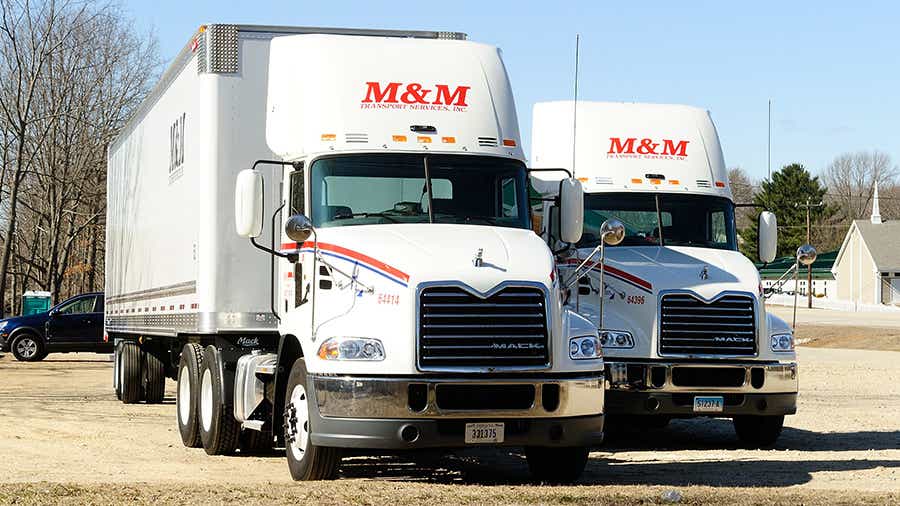 GREEN BAY, Wis. (August 1, 2023) – Schneider National, Inc. (NYSE: SNDR), a premier multimodal provider of transportation, intermodal and logistics services, announced today the company has acquired M&M Transport Services, LLC, based in West Bridgewater, Massachusetts.
M&M Transport is a Dedicated contract carrier that primarily provides specialty solutions for the retail and manufacturing verticals. Its top 20 customers include many Fortune 500 companies.
The Dedicated carrier deploys approximately 500 trucks and 1,900 trailers across 12 locations in the Northeast, Midwest and Southwest.
The acquisition further complements Schneider's Dedicated organic growth success and places Schneider on a glide path toward $1.5 billion in annual Dedicated contract revenues and 6,500 Dedicated tractors in service to our valued customer base.
"By combining our respective expertise, knowledge and resources, we will be better positioned to meet the evolving needs of our customers and expand our reach in the Dedicated market," said Schneider President and CEO Mark Rourke. "This is an exciting opportunity to leverage the best of both companies and use our complementary capabilities to deliver enhanced value to our customers and stakeholders."
M&M Transport has a 30-year history of growth and a demonstrated reputation of strong customer service. M&M Transport will operate as a wholly owned subsidiary of Schneider, continuing the successful trajectory with its associates and trusted brand.
"Both companies have a successful history of Dedicated operational excellence, a reputation for superior customer service and a common foundation of core values – so our cultures are an excellent match," said M&M Transport Founder Mark Warsofsky. "Now, as a wholly owned subsidiary of Schneider, M&M Transport will continue to leverage our strengths while capitalizing on Schneider's broad capabilities and resources to support continued growth and the consistent, reliable service that our customers expect from M&M Transport."
The acquisition is expected to be immediately accretive to Schneider's earnings per share. M&M Transport financial results will be reported in Dedicated operations as part of the Truckload segment beginning in the third quarter of 2023.
Scopelitis, Garvin, Light, Hanson & Feary served as Schneider's transaction and legal advisor, and G2 Capital Advisors served as exclusive financial advisor to M&M Transport and Goulston & Storrs PC served as legal advisor to M&M Transport Services on the transaction. To learn more about the transaction, go to investors.schneider.com. To learn more about Schneider, go to schneider.com.
Special Note Regarding Forward-Looking Statements
This information contained in this press release contains forward-looking statements within the meaning of the United States Private Securities Litigation Reform Act of 1995, which are intended to come within the safe harbor protection provided by such Act. These forward-looking statements reflect our current expectations, beliefs, plans, or forecasts with respect to, among other things, future events and financial performance and trends in the business and industry. Forward-looking statements are often characterized by words or phrases such as "may," "will," "could," "should," "would," "anticipate," "estimate," "expect," "project," "intend," "plan," "believe," "target," "prospects," "potential," "forecast," and other words, terms, and phrases of similar meaning and include statements regarding: (1) how M&M Transport will be integrated into Schneider's group structure and how M&M Transport's financial results will be reported in Schneider's consolidated financial statements, (2) whether M&M Transport drivers and associates will continue to work under the M&M Transport name, (3) expectations regarding Schneider's annual Dedicated revenue, and (4) the expectation that the acquisition of M&M Transport will be immediately accretive to Schneider's earnings per share. Forward-looking statements involve estimates, expectations, projections, goals, forecasts, assumptions, risks, and uncertainties. Readers are cautioned that a forward-looking statement is not a guarantee of future performance and that actual results could differ materially from those contained in the forward-looking statement. Forward-looking statements may be affected by risks and uncertainties in the business of Schneider and M&M Transport and market conditions, including, among others, (1) the risk that the operations of Schneider and M&M Transport will not be integrated successfully, (2) the risk that the combined business will not achieve the anticipated revenue and synergies or other expected benefits, and (3) those discussed in Part I, Item 1A, "Risk Factors," of our Annual Report on Form 10-K filed on February 17, 2023, as such may be amended or supplemented in Part II, Item 1A, "Risk Factors," of subsequently filed Quarterly Reports on Form 10-Q, as well as those discussed in the consolidated financial statements, related notes, and other information appearing elsewhere in the aforementioned reports and other filings with the SEC. We do not intend, and undertake no obligation, to update any of our forward-looking statements after the date of this press release to reflect actual results or future events or circumstances. Given these risks and uncertainties, readers are cautioned not to place undue reliance on such forward-looking statements.