Schneider hauls first Frito-Lay North America third-party electric vehicle shipment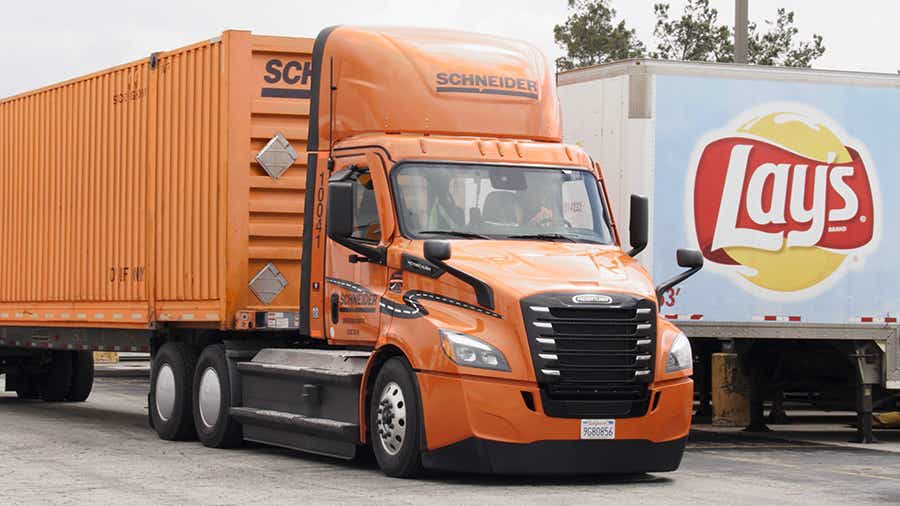 Collaboration between the carrier and PepsiCo marks a critical step forward in reducing carbon emissions
GREEN BAY, Wis. (April 17, 2023) – Schneider (NYSE: SNDR), a premier multimodal provider of transportation, intermodal and logistics services is proud to announce today that it completed its first ever battery electric vehicle (BEV) delivery with Frito-Lay North America (FLNA).
This was also the first third-party BEV shipment for PepsiCo globally, establishing FLNA snack products as the first to contract transport on Schneider's fleet of electric of Freightliner eCascadia trucks.
"As we roll out our fleet of almost 100 new battery electric trucks, we're thrilled to offer a cleaner mode of freight transportation to valued customers like Frito-Lay, who share our goal of operating in ways that are environmentally responsible," said Schneider Executive Vice President and Chief Administrative Officer Rob Reich. "For decades, we have been committed to improving sustainability at Schneider, and we're proud to now be able to positively impact our customers' operations as well. Working together, we are decreasing the carbon footprint of shipments in southern California and making a positive difference."
"Today's milestone shipment underscores the importance of cross-industry collaboration in building a more sustainable food system and achieving Frito-Lay and PepsiCo Positive's goal of net-zero emissions by 2040," said PepsiCo Foods North America Vice President and Chief Sustainability Officer David Allen. "As a company with massive scale, Frito-Lay looks for opportunities to create positive change – but we can't do it alone. By working with Schneider, we are taking an important step forward in our efforts to reduce value chain emissions and move our snack products in a more sustainable way."
An emissions reduction of more than 70 percent is expected this year from the initial FLNA BEV routes, versus the same shipments on diesel trucks, which is equivalent to eliminating more than 180,000 miles driven by gasoline-powered passenger vehicles from the road. Initial shipments on Schneider's growing Freightliner eCascadia fleet will be intermodal inbound and outbound dray moves in southern California, including service to Frito-Lay's Rancho Cucamonga distribution center.
Schneider will have 92 eCascadias in its southern California intermodal operations by the end of 2023, positioning the transportation leader to have one of North America's largest battery electric fleets. BEVs are a crucial component in Schneider's efforts to reach its sustainability goals of reducing CO2 per-mile emissions by 7.5% by 2025 and 60% by 2035. Schneider has already achieved more than half of its 2025 goal by reducing per-mile emissions by 5%. Battery electric trucks will help move the company even further toward these goals.
Frito-Lay and PepsiCo's commitment to net-zero emissions by 2040 is guided by PepsiCo Positive (pep+), an end-to-end transformation that puts sustainability at the center of how the company will create growth and value by operating within planetary boundaries. With third-party transportation and distribution forming 20 percent of PepsiCo's emissions footprint, collaboration with partners from whom these emissions originate is critical. Frito-Lay's collaboration with Schneider lays important groundwork for an expansion of low- or zero-emissions vehicle use within its third-party transportation footprint.
For more information on Schneider's sustainability and innovation efforts, please visit: https://schneider.com/company/corporate-responsibility.
To learn more about pep+ and progress towards net-zero goals, visit PepsiCo.com/PepsiCoPositive.