Schneider honoring drivers at NASCAR events this week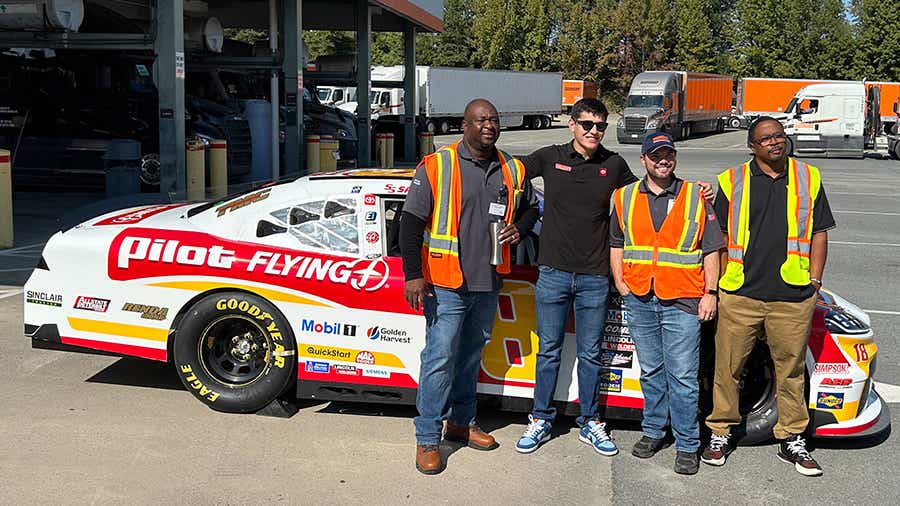 The transportation and supply chain leader's
iconic
logo to appear on
Pilot
Flying
J
racecar
at
Charlotte
r
ace
GREEN BAY, Wis. (October 6, 2023) – Schneider National, Inc. (NYSE: SNDR), a premier multimodal provider of transportation, intermodal and logistics services, will celebrate company drivers during special NASCAR events this week in Charlotte, North Carolina.
Eleven drivers from the carrier's Advantage Club will have the unique opportunity to meet with and watch NASCAR's Sammy Smith race his #18 Pilot Flying J car featuring the Schneider logo at the Drive for the Cure 250 presented by BlueCross BlueShield of North Carolina on Saturday, October 7. Schneider's drivers will enjoy a rare behind the scenes view of race day from the pit area with the Pilot Flying J crew.
Additionally, Smith attended a BBQ at Schneider's Charlotte Operating Center on Thursday, October 5. At the event, NASCAR-themed gifts and tickets to Saturday's race were provided to Schneider associates. Members of Schneider's maintenance team will also participate in a visit and tour of Joe Gibbs race shop on Friday, October 6.
"We are appreciative to NASCAR and Pilot Flying J, for including Schneider in a memorable week and creating an opportunity to thank our drivers for their hard work and commitment to safety," said Schneider Executive Vice President and Chief Administrative Officer Rob Reich.
Schneider's Advantage Club honors drivers who have been with the company for at least three years and have a clean performance record with no safety issues. The group's focus is to celebrate the hard work and dedication that Schneider's drivers display every day and thank them for doing one of the most demanding jobs in the organization.
Pilot Flying J, a North American chain of truck stops that has a long-standing relationship with Schneider, invited the company to take part in this weekend's race and host a series of events for the company's associates
Creating a workplace where associates see opportunities for advancement and to enhance their professional skills is key to Schneider's commitment in offering career growth and a culture of respect. To learn more about building a rewarding career at Schneider, please visit: