Schneider named a 2023 Top Food Chain Provider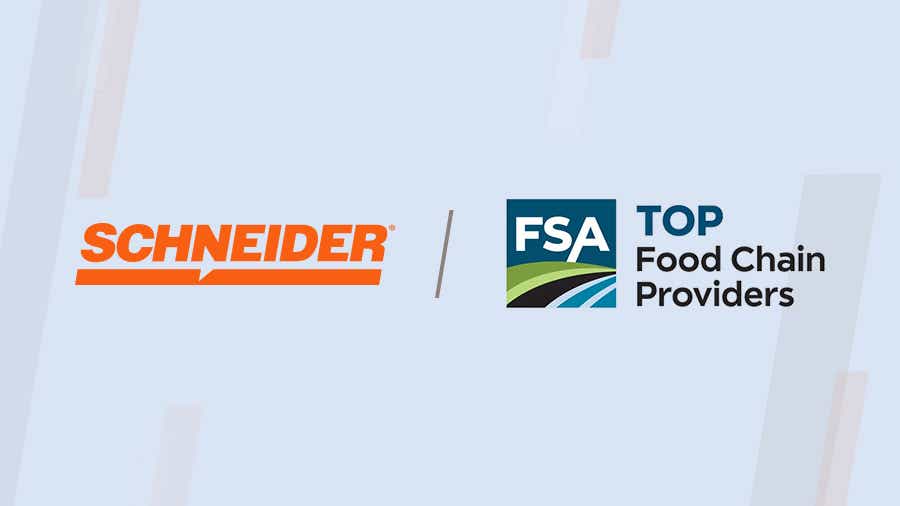 The
transportation and
logistics
leader
recognized
by Food Shippers of America
for quality service and capabilities serving
the
industry
GREEN BAY, Wis. (October 13, 2023) – Schneider National, Inc. (NYSE: SNDR), a premier multimodal provider of transportation, intermodal and logistics services, has been selected as a 2023 Top Food Chain Provider by Food Chain Digest, the official magazine of the Food Shippers of America (FSA).
The list highlights 25 service providers among third-party logistics companies (3PLs), freight brokers, motor carriers, rail/intermodal and maritime companies that excel in capabilities and service to food shippers. Schneider was named to this elite list for the carrier's quality service and capabilities, alongside its dedication to solving customer challenges and accomplishing company business goals.
"Continuously, successfully delivering for customers within the food and beverage industry is a major accomplishment as the market comes with many challenges," said Schneider Senior Vice President and General Manager of Van Truckload and Mexico John Bozec. "With this type of freight, a number of factors must be considered including maintaining product quality through varying climates and providing food-grade containers and boxes. Receiving this recognition is an accomplishment for our team and testament to the service they deliver every day."
The companies named to the Top Food Chain Providers list were evaluated by the staff at Food Chain Digest and voted on by over 6,000 professionals in the food supply chain, transportation, warehousing and distribution industry segments.
Each year, Schneider helps more than 425 food and beverage customers solve their shipping challenges by providing transportation solutions and services for their entire supply chain. The company provides load and network engineering services, sustainable solutions and many capacity modes including Van Truckload, Intermodal, Bulk, Dedicated, Brokerage, Port and Warehousing.
Additionally, equipment beyond the iconic orange trailers and containers, including refrigerated trailers with real-time, remote monitoring capabilities, bulk tankers, flatbeds, hoppers and specialty equipment are available to transport customer products from origin to destination.
Schneider also supports shippers in reducing supply chain emissions. Earlier this year, Schneider completed its first battery electric vehicle (BEV) delivery with Frito-Lay North America (FLNA). It was also the first third-party BEV shipment for PepsiCo globally, establishing Schneider as the first carrier to transport FLNA snacks on a BEV.
Schneider has one of the largest BEV fleets in North America, with nearly 100 battery electric Freightliner eCascadias in its Southern California intermodal operations.
To learn more about Schneider's food and beverage transportation, supply chain and logistics solutions, visit:
.