Schneider opens large-scale zero emissions electric charging depot in Southern California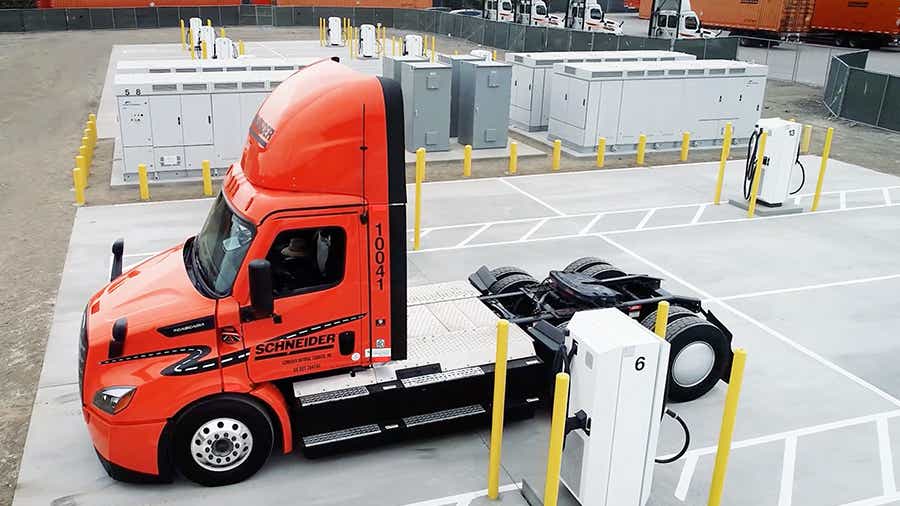 The transportation and logistics provider leads the way in building infrastructure to support the operations of its nearly 100 Class 8 battery electric trucks 
GREEN BAY, Wis. (June 7, 2023) – Schneider National Inc. (NYSE: SNDR), a premier multimodal provider of transportation, intermodal and logistics services, today announced the completion of an electric charging depot at its South El Monte Intermodal Operations Center in Southern California. The depot will power its battery electric truck (BET) fleet, which will include nearly 100 Freightliner eCascadias by year's end, making it one of North America's largest zero emission fleets.
The charging site is over half the size of a football field, featuring 16 350 kW dual-corded dispensers, allowing the carrier to charge 32 trucks simultaneously. The eCascadias will be able to achieve an 80% charge within 90 minutes.
"Schneider decided to lead the way by building our own depot in South El Monte," said Schneider President and CEO Mark Rourke. "It was important to develop onsite charging because it is the most efficient solution to power our growing electric fleet. With the infrastructure deficiency, we found that we needed to collaborate with a wide array of experts to see our vision come to fruition."
Schneider's facility is centrally located within the metro Los Angeles area and adjacent to major highways with a high density of customers within a 50-mile radius. Already this year, Schneider has begun hauling deliveries for Frito-Lay North America and Goodyear using the new eCascadia fleet, supporting each companies' supply chain sustainability goals. The eCascadias have a range of approximately 220 miles.
The South El Monte site was funded through the Joint Electric Truck Scaling Initiative (JETSI), a project funded by state and local agencies to increase the number of zero emission heavy-duty trucks on the roads. Schneider collaborated with similar sustainably-minded companies, including clean transportation engineering and construction company, Black & Veatch, to build the site and create an operationally efficient layout.
"This 4,900-square-foot state-of-the-art electric truck charging hub is a monumental testament to innovation and collaboration," said Dave Hallowell, Black & Veatch president of the connectivity, commercial, and industrial sector. "The collaboration between Schneider and all the project partners will result in new employment opportunities for the area, along with a significant reduction in pollution."
Funding for 50 of Schneider's 92 BETs was made possible by JETSI, the first battery electric truck project jointly funded by the California Air Resources Board and the California Energy Commission, which together awarded the project $27 million. Additional funding was provided by South Coast Air Quality Management District, Mobile Source Air Pollution Reduction Review Committee, the Port of Los Angeles and Southern California Edison. The JETSI project is part of California Climate Investments, a statewide initiative that puts billions of cap-and-trade dollars to work reducing greenhouse gas emissions, strengthening the economy and improving public health and the environment, particularly in disadvantaged communities.
"We know the future of sustainable transportation includes electric. That is why we invested and collaborated with stakeholders along the supply chain to work together to create this infrastructure and ultimately lower carbon emissions. This would not be possible without our funding and grant agencies," said Rourke.  
For the additional 42 trucks outside JETSI, five are jointly funded by the U.S. EPA FY18 Targeted Airshed Grant and Hybrid and Zero-Emission Truck and Bus Voucher Incentive Program (HVIP), seven are funded by the Volkswagen Environmental Mitigation Trust, and 30 trucks are funded by HVIP.
Schneider worked alongside Daimler Truck North America (DTNA) as the eCascadia evolved, piloting a truck for six months in 2020-2021 through Freightliner's Customer Experience fleet. Feedback from Schneider drivers and the equipment team led to the production of the BET found in the company's fleet today.
"For decades, we've built a strong, deep relationship with Schneider, aligning on strategic priorities such as safety and efficiency," said Daimler Truck North America Senior Vice President, Sales and Marketing David Carson. "When initiating our electric vehicle development programs, we assisted Schneider as they started and later scaled their fleet of Freightliner eCascadias. They've provided our team with vital insight on the opportunities for battery electric trucks in the goods movement industry. Through the outreach and education being conducted as part of the JETSI project, other fleets can learn from Schneider's experiences and apply them to future deployment of zero emission vehicles nationwide."
At present, the company has accepted delivery of approximately a third of its expected fleet. When fully operational, Schneider's 92 BETs will have the potential to avoid more than 81,000 pounds of carbon dioxide emissions per day, the equivalent of removing 2,400 gas-powered cars from the road. Each day these zero emission trucks will accelerate the company's progress toward its goal of reducing CO2 emission by 7.5% per mile by 2025 and a 60% per mile reduction by 2035.
For more information on Schneider's fleet sustainability initiatives, please visit:  https://schneider.com/company/corporate-responsibility. 
To learn more about the JETSI project, please visit: https://www.jetsiproject.com.  
Note to the media: B-roll and a soundbite from Schneider President and CEO Mark Rourke is available in our media kit at https://schneider.com/company/news/media-kit.