Schneider selected as a Top Company for Women to Work for in Transportation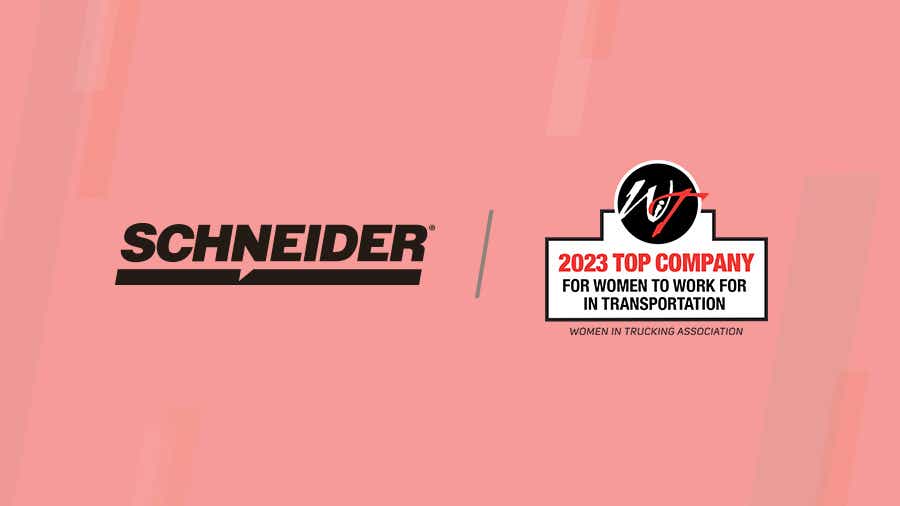 The carrier has been recognized by the Women in Trucking Association
GREEN BAY, Wis. (November 8, 2023) – Schneider National, Inc. (NYSE: SNDR), a premier multimodal provider of transportation, intermodal and logistics services, is excited to share the company has been named a 2023 Top Company for Women to Work for in Transportation by Redefining the Road, the official magazine of the Women in Trucking Association (WIT). This is the fifth consecutive year Schneider has received this honor.
WIT selected companies for their efforts in the following:
c

orporate culture that

foster

s

gender diversity;

c

ompetitive compensation and benefits;

f

lexible hours and work requirements

;

and

p

rofessional development opportunities and

career advancement opportunities

.
"Increasing accessibility and inclusivity for women in the industry has been a long-standing commitment of Schneider's," said Schneider Executive Vice President of Human Resources Angela Fish. "We are pleased to be recognized for five consecutive years as one of the best places for women to work in transportation, and we look forward to continuing to empower women in their careers across the industry."
The company has cultivated an inclusive environment where women have the resources and support to advance their careers in transportation. Women make up more than 12% of drivers and 40% of leadership roles across the organization. The company's longest standing business resource group, the Schneider Women's Network, is focused on impacting and inspiring women leaders who have the ability to influence, develop and enrich other women across the organization, showing the company's commitment to increasing the number of women across transportation and logistics.  
"Throughout my tenure at Schneider, I consider one of my most important roles to be encouraging other women to pursue a career in transportation," said Schneider Chief Commercial Officer (CCO), Group Senior Vice President and General Manager of Logistics Erin Van Zeeland. "I am glad for the increased visibility this award provides to the efforts Schneider has made in ensuring mentorship opportunities for those interested in entering the industry."


For more information on Schneider's inclusivity initiatives, please visit: