Gain control with a Dedicated solution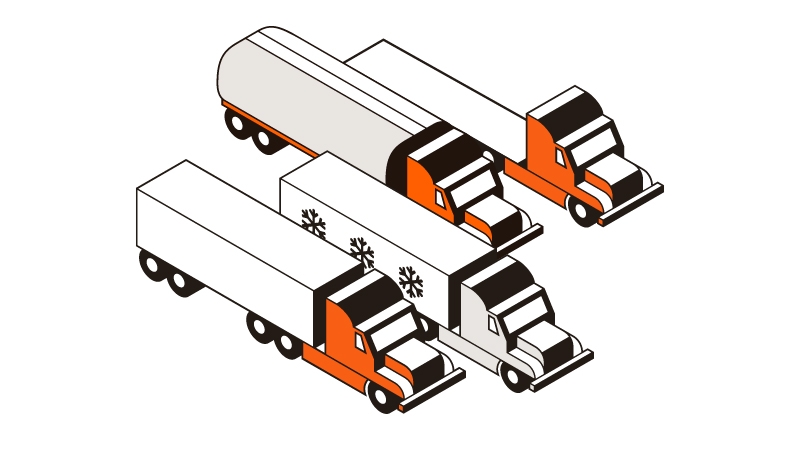 Managing budgets, people, operations and transportation can feel like a never-ending juggling act, but dedicated transportation can help control your supply chain — and make sure you don't drop the ball. Dedicated shipping provides long-term, guaranteed capacity for your freight. It's a transportation solution that is contracted yet flexible and customized to your unique shipping needs.
With more than 35 years of dedicated shipping experience, Schneider has developed solutions for a variety of challenges and in a range of industries. Read on to learn about just a few of the customers we've helped gain control, save money and more.
Dedicated shipping solution flexes along with retailer's growth
Van Truckload
Prior freight type
Rapid growth
Transportation challenge
Schneider's solution:
Used its large network of drivers and equipment to meet the retailer's growth needs — in only days — with the ability to flex up and down as shipping volumes changed.
Created temporary fleets to move 350 loads of inventory from an acquired warehouse to the retailer's distribution centers.
Supported the retailer during a holiday surge.
With a Dedicated transportation solution, the retailer kept its merchandise moving, scaling and flexing to support its rapid expansion.
Supplier gained an extension to its company to keep large volumes of freight moving
Building materials
Industry
Flatbed
Prior freight type
High freight volume
Transportation challenge
Schneider's solution:
Organized 137 drivers around 20 distribution centers.
Developed efficient route plans and provided visibility to freight tracking.
Acted upon its commitment to safety to ensure the supplier's freight — which had a high risk of damage due to being strapped onto flatbed trailers — would be safe.
As an extension of the supplier's team, Schneider provided a detailed transportation solution that ensured nationwide capacity for the large volume of freight, with visibility and safety.
Flawless conversion from private fleet to Dedicated shipping
Glass fabrication
Industry
Van Truckload
Prior freight type
Private fleet conversion
Transportation challenge
Schneider's solution:
Developed a personalized, 12-week transition plan.
Took ownership of the company's equipment and truck maintenance facility.
Qualified existing drivers and mechanics to meet strong business standards.
Recruited new drivers and mechanics to replace those who chose not to transition or did not qualify.
The company transitioned to a Schneider Dedicated fleet, while still maintaining a 98% on-time delivery rate and high level of service, so it could focus on its core business.
Grocer finds on-time delivery solution for perishable freight
Refrigerated Van Truckload
Prior freight type
Perishable goods
Transportation challenge
Schneider's solution:
Built a fleet of drivers and equipment to continually run refrigerated freight across the country — meeting two-hour delivery window requirements.
Leveraged relationships with third-party logistics services during seasonal surges in freight volume.
Saved the grocer money by finding back-haul opportunities for long-haul deliveries.
Schneider achieved an on-time delivery rate of 99% and made sure the grocer's perishable food products arrived at their destinations unspoiled.
Supplier meets critical delivery window despite border crossing
Cross-Border Van Truckload
Prior freight type
Just-in-time delivery windows
Transportation challenge
Schneider's solution:
Used its network of resources and cross-border expertise to enlist 17 Dedicated drivers to transport the supplier's parts from Canada to the U.S.
Trailer tracking technology provided accurate on-time delivery updates.
With Schneider's help, the supplier increased its on-time delivery rate from 80% to 99.6% and increased annual cost savings due to fewer fines — which had cost the supplier up to $10,000 per minute that a production line was shut down due to missing parts.
Control your supply chain with Schneider Dedicated
No matter the industry you're in or the product you're shipping, a custom dedicated transportation solution can help you take control of your supply chain. Dedicated shipping from Schneider will bring you:
A large North American network of drivers, equipment and experts to deliver smart capacity solutions
More than 35 years of experience providing Dedicated transportation solutions, backed by more than 85 years of transportation experience
Experts who engineer customized solutions for your business needs – whether you need a truckload, flatbed, refrigerated, bulk, intermodal or a private fleet solution
Financial strength that allows Schneider to invest in new technology, equipment and drivers, so you're always staying on top of the logistics game
Keeping your business moving. That's Dedicated.
Never let supply chain issues slow your operations down. Leverage Schneider's expertise and unique coast-to-coast shipping lanes. It's just good business.
Contact us