Shipper | Best practices
How to keep your refrigerated freight fresh
Learn how the innovative features of a reefer truck benefit you when shipping refrigerated freight.
The right carrier and equipment benefit you when shipping refrigerated freight
Shipping refrigerated freight comes with a unique set of challenges. Different from standard van truckload trailers, reefer trailers require more specialization to provide the optimal conditions that will maintain product freshness. Here's how to ensure that your freight stays fresh from point A to point B.
Work with refrigerated freight experts
Carriers that have experience in specifying refrigerated equipment and relationships with equipment manufacturers also have the expertise to best help you with your freight needs. They most likely have loading engineers to analyze the freight and develop a load plan that maximizes the amount of product that can be moved.
Customize a standard trailer
A new custom trailer for the product being transported is essential. A standard reefer trailer is 53' long x 102" wide x 13'6" high, but it can be configured to include an array of optimizations to meet the unique needs of your freight.
Shippers working with Schneider to haul refrigerated products have a variety of options available.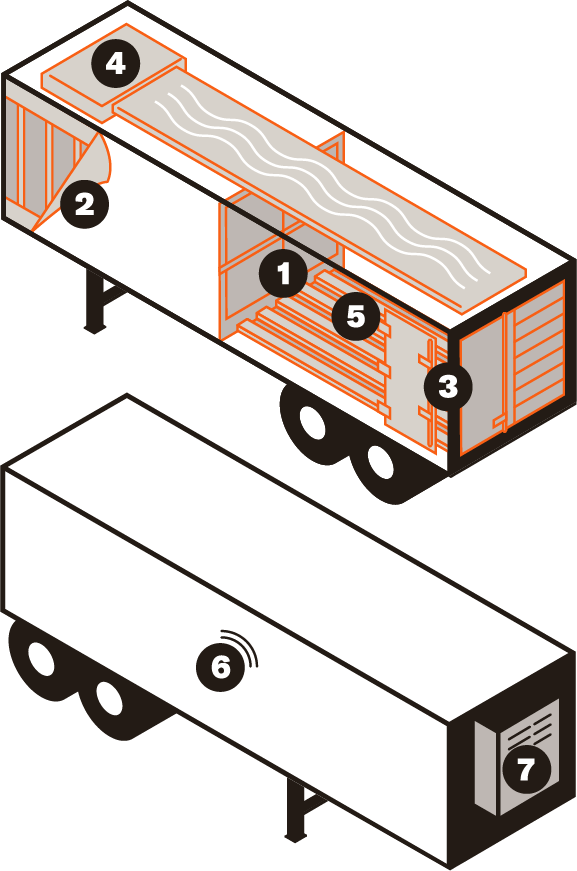 Equipment customizations that we offer include:
Multi-temp configuration:

A standard unit is a single temperature, which might be all you need. Multi-temp configurations are available, dividing the unit into multiple separate temperature-controlled compartments using bulkheads. These trailers are designed to maintain product temperatures from anywhere between -20 and 75 degrees, allowing you to ship multiple types of products in one trailer and optimize loads.

Specialty insulation:

There are multiple types of insulation available to help maintain the correct trailer temperature. High-density insulation is a more sustainable insulation option that retains temperature and humidity, reducing emissions and the run time on the – an essential for companies with sustainability goals to meet.

Door types and placement:

Swing, roll-up or side options are available and can be placed in the necessary location on the trailer.

Air chutes:

Incorporating this channel/ducting provides uniform temperatures throughout the trailer, eliminating hot spots and protecting the freight.

Duct flooring:

This specialty flooring is another way to minimize hot spots while also reducing cargo movement.

Telematics system:

Not standard on refrigerated trailers, a telematics system is a remote way for the carrier to track, monitor and control the trailer temperature from anywhere. This minimizes temperature-related load rejections, reduces costly spoilage claims and prevents cargo theft. It also continuously monitors the cargo area and alerts for deviations, such as if the temperature is out of range, the unit is turned off, a door is opened outside of the loading/unloading process or rapid fuel loss occurs.

Tracking:

Carriers that are able to provide real-time visibility throughout the route and show the exact location of freight will help you plan for accurate delivery to your customers.
Get started with Dedicated
If managing the challenges of refrigerated shipping is spoiling your day, learn how Schneider Dedicated can positively impact your supply chain.
Drive your business forward
Sign up to receive our industry leading newsletter with case studies and insights you can put to use for your business.