Shipper — Case study
Transportation optimization study reveals multi-million annual savings opportunity
An American manufacturer of residential and commercial water heaters and HVAC equipment, and Schneider customer, conducted a Supply Chain Assessment to identify areas of opportunity within their supply chain. The assessment identified that there was likely opportunity for cost savings within their transportation strategy, so the customer asked Schneider to dig in further and prove out the savings with a transportation optimization study.
Schneider's engineering team used a representative sample of the customer's historical shipment data to conduct the transportation optimization study. Best-in-class technology and modeling tools were put to work in a detailed analysis where the team replicated the customer's processes and Transportation Management System (TMS) to test the impact of various business rules and their effect on transportation cost.
Scenarios tested
Baseline.
Mode selection.
Daily consolidation.
2-day consolidation.
Multi-stop truckload with daily consolidation.
Multi-stop truckload with 2-day consolidation.
Manual transportation management has a high cost
While the manufacturer utilizes a TMS, it manually plans its transportation in siloed business units and separates orders for warehouse ease, resulting in transportation inefficiencies. The transportation optimization study revealed that minor tweaks to the transportation strategy – simply choosing the most cost-effective mode – would drive significant cost savings of around $2.25 million annually. Further, it revealed that if the manufacturer were to move to a multi-stop truckload model in combination with 2-day consolidation the business could save over $4 million each year.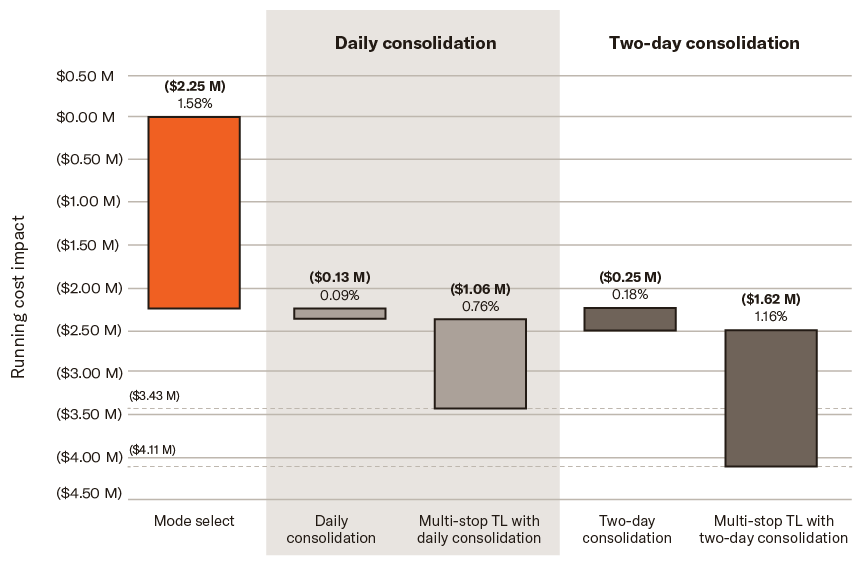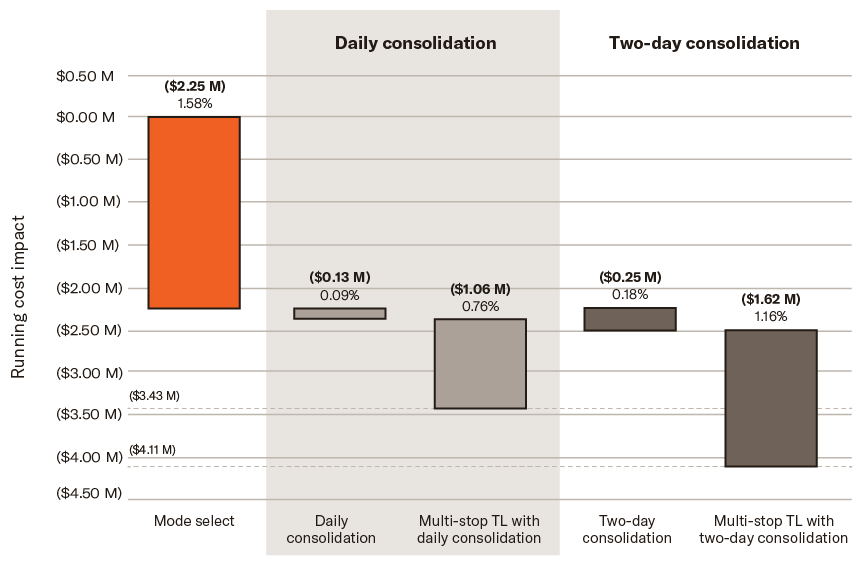 Beyond transportation costs, consolidation of the manufacturers freight from Less-than-truckload (LTL) into full or multi-stop truckload would reduce the annual number shipments by over 15%, reduce LTL related damage and claims, as well as improve on time delivery and customer service.
Implementing an optimized transportation strategy
By making logical choices for shipment mode this manufacturer will be able to save $2.25M annually. So, whether your business decides to get after low-hanging fruit or make larger operational changes, Schneider is here to ensure the path forward is smooth. Our operations teams work closely with customers to guide through the change management process from facility organization to creating shipment staging areas, and more.
Legacy business rules may be costing your business more than you realize. Speak with a supply chain expert about optimizing your transportation strategy.
Drive your business forward
Sign up to receive our industry leading newsletter with case studies and insights you can put to use for your business.