Shipper | Market updates 2 min. read
Laredo-Columbia Bridge to Double Lanes to Boost Trade
The expansion aims to prepare the Laredo-Colombia Bridge for the expected growth of cross-border trade caused by nearshoring.
Laredo City Council has approved the expansion of lanes on the Laredo-Colombia Solidarity International Bridge, which connects Texas and Nuevo Leon. The expansion aims to prepare the Laredo-Colombia Bridge for the expected growth of cross-border trade caused by nearshoring. This expansion will involve increasing the lanes from 8 to 16.

Laredo recorded $26.1 billion in two-way trade during July 2023, with Mexico commerce accounting for $25.4 billion, according to the latest U.S. Census Bureau data. It has accounted for 6.31% of U.S. trade. (add link to previous article)
The World Trade Bridge, at the Laredo Port of Entry, is the largest and only dedicated commercial crossing on the Texas-Mexico border. The Laredo–Colombia Bridge's potential remains untapped due to the lack of direct connections between Monterrey and Colombia, according to a report by the Texas Department of Transportation.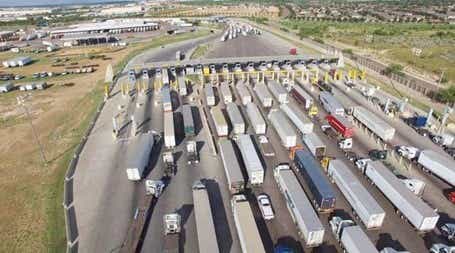 The Governments of Nuevo Leon and Laredo will equally finance this expansion and that once the technical work begins, each entity will notify their respective Federal Government.


The Laredo–Colombia Bridge currently has 5,500 crossings per day, compared to the 3,400 recorded in 2021. This expansion is part of the Master Road Plan, which is already in the making with several ongoing infrastructural developments, including the modernization of the Monterrey-Colombia Highway and the La Gloria Colombia Highway. The last one is scheduled to be inaugurated later this year.
About the Market Update
Schneider publishes this regular transportation market update to keep you informed of freight market conditions, supply and demand influencers, and disruptions that may impact your supply chain.
This Market Review Update is intended to provide you with high-level macroeconomic and general industry data that may be relevant to your business. This update should not be used for any other purpose. This update does not state or imply anything about Schneider's performance, results, operations, strategy, projections or plans. The purpose of this update is to relay statistical and relevant facts from various industry professionals. This update does not predict or forecast any economic or industry outcome or results. This update has been prepared on the basis of information made available by third parties; Schneider has not attempted to independently verify any such third-party information.
This report focuses overviews the Transportation Market. View the Market Update focusing on Mexico transportation here.
For the latest information on hurricane season and the impacts on supply chains, please see our weather-advisory page.
Drive your business forward
Sign up to receive our industry leading newsletter with case studies and insights you can put to use for your business.