Shipper | Market updates
Mexico Transportation Market Update
February 24, 2023, Transportation Market Update Report: Upcoming Schneider events, Mexico appliance manufacturing, nearshoring opportunities, and industry and Schneider news!
Upcoming Schneider Events

Organizations that are shipping across the U.S.-Mexico border are taking notice that constant evolutions such as shifting demand cycles, changing economic conditions and rising inflation are requiring changes to their supply chain strategy.
These market challenges have led many shippers to consider adding a nearshoring solution to their supply chains.
During the following events, Schneider will bring cross-border shippers together to dig into their nearshoring supply chain challenges and solutions to optimize their supply chain.
The Mexico northbound/southbound gap increases 6% year over year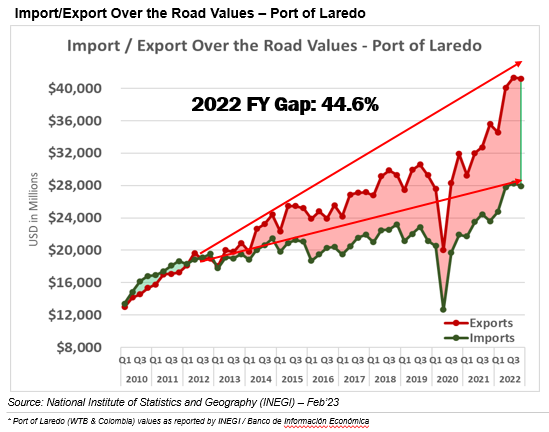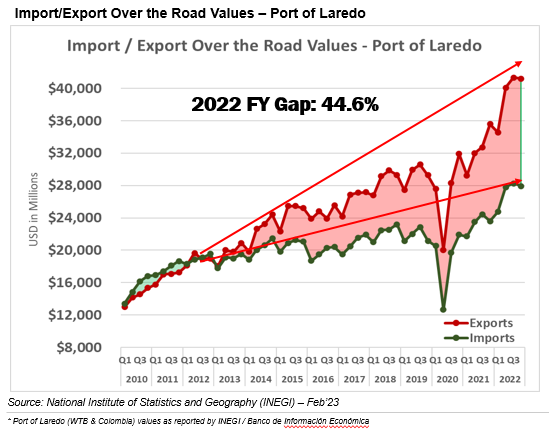 2022 also went down in the books as one of Mexico's best years in terms of capturing Direct Foreign Investments (FDI). FDI, which totaled $35.3B, grew 12% versus 2021. The manufacturing sector captured 36% of the total investments followed by the transportation sector with 15%.
About the Mexico transportation market update
Schneider publishes this regular transportation market update to keep you informed of freight market conditions, supply and demand influencers, and disruptions that may impact your supply chain. 
This report is developed by leveraging data and analytics from multiple transportation industry resources.
This report focuses on the Mexico Transportation Market. View the full Transportation Market Update here.
Weather advisory page -- For the latest information on hurricane season and the impacts on supply chains, please see our weather-advisory page.
Drive your business forward
Sign up to receive our industry leading newsletter with case studies and insights you can put to use for your business.