Shipper — Presentation
Transportation Market Update
Schneider publishes this regular transportation market update to keep you informed of freight market conditions, supply and demand influencers, and disruptions that may impact your supply chain.
This report is developed by leveraging data and analytics from multiple transportation industry resources.
This report focuses overviews the Transportation Market. View the Market Update focusing on Mexico transportation here.
For the latest information on hurricane season and the impacts on supply chains, please see our weather-advisory page.
July 15, 2022 Update - Transportation Market Update Report
Outbound Tender Index Volumes continue to slow – though the middle of summer is historically quieter.

This chart combines the current year-to-date trend with full year trends from 2018-2021. You will see consistent trends in reduced outbound tender volumes during holidays. More importantly, it shows the sustained length of time that record-level outbound tender volumes have remained.
Compared to the Outbound Tender Volume Index levels during this time in the previous three years, current OTVI is -18% lower than 2021, -10% lower than 2020, and 13% higher than 2019.
FreightWaves Sonar analysis says that as typical with holidays, the Fourth of July holiday has skewed volume levels. Since OTVI is calculated as a seven-day moving average, and since freight demand on July Fourth was effectively absent, the current dip should not be alarming by itself.
Nevertheless, demand from retail shippers is historically quiet in the period from now until mid- to late August, after which retailers begin to restock their shelves for the back-to-school season. Given that many retailers have already noted record levels of inventory amid slowing consumer demand, even the traditional peak in August and September might be less "peaky" than usual.
Have sustainability goals?
You need to attend this upcoming event. Transportation Sustainability Summit: July 26 – 27, 2022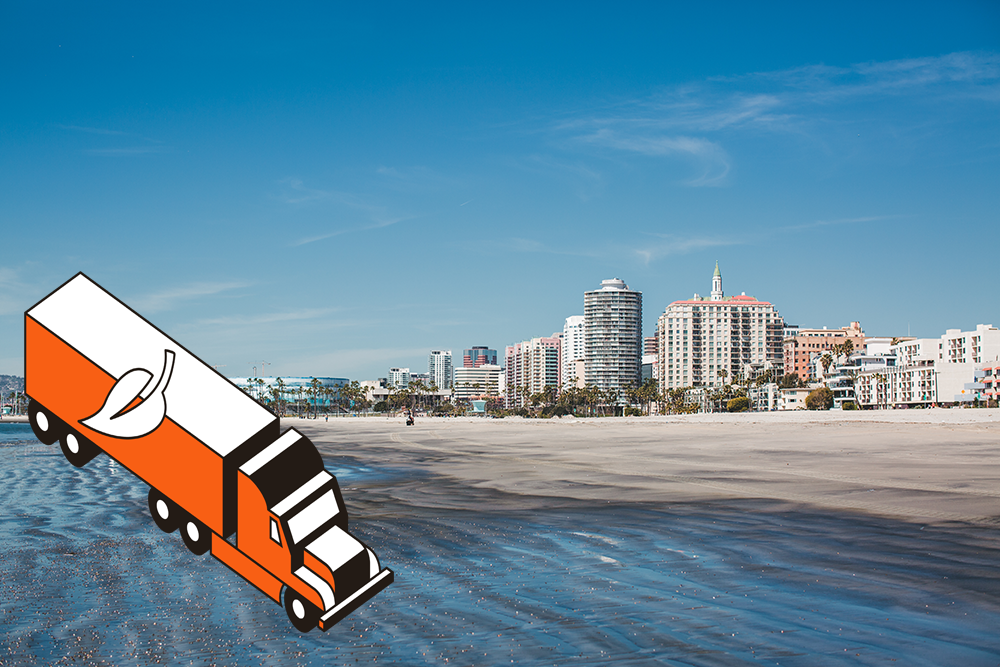 This year's Peak Season still needs to be planned for
Though the market is beginning to soften from 2021, volumes are still competitive with 2018 – 2020. And, despite the fact that many retailers are sitting on inventory, the second half of the year holiday and promotion seasons are upon us.
In an environment where nothing is certain, one thing is – there will always be some level of a Peak Season to meet the holiday and promotion demands of the second half of the year.
Here's your Peak Season Checklist for 2022, to help you expect the unexpected:
Plan ahead

Provide your carriers your forecast as soon as possible, so they can understand the surge you are expecting, and help you to develop the best plan for your freight needs. If your business experiences any sort of surge in freight volumes, your carriers need to prepare behind the scenes to meet your needs.
Leverage strategies like Schneider Capacity StackingSM

By planning ahead with your carriers, those that provide multiple services, like Schneider, can help you to develop the best mode diversification plan to move your freight efficiently and cost-effectively, whether via Van Truckload, Intermodal, Port Services, Brokerage, Dedicated, Bulk or more.
Set up digital connections with carriers

By connecting digitally via API or TMS with your carriers, you will get quick and easy quotes on your freight, saving you time and resources, when you need to move quickly. In addition, we offer Schneider FreightPower® for quick and easy quoting, booking and tracking of your Schneider freight.
As the market continues to evolve, we are here to help. Contact a logistics expert today and read the full transportation market update report here:
Shipping freight cross-border?
Register for our next event: The Cross-Border Capacity Evolution, on August 25, 2022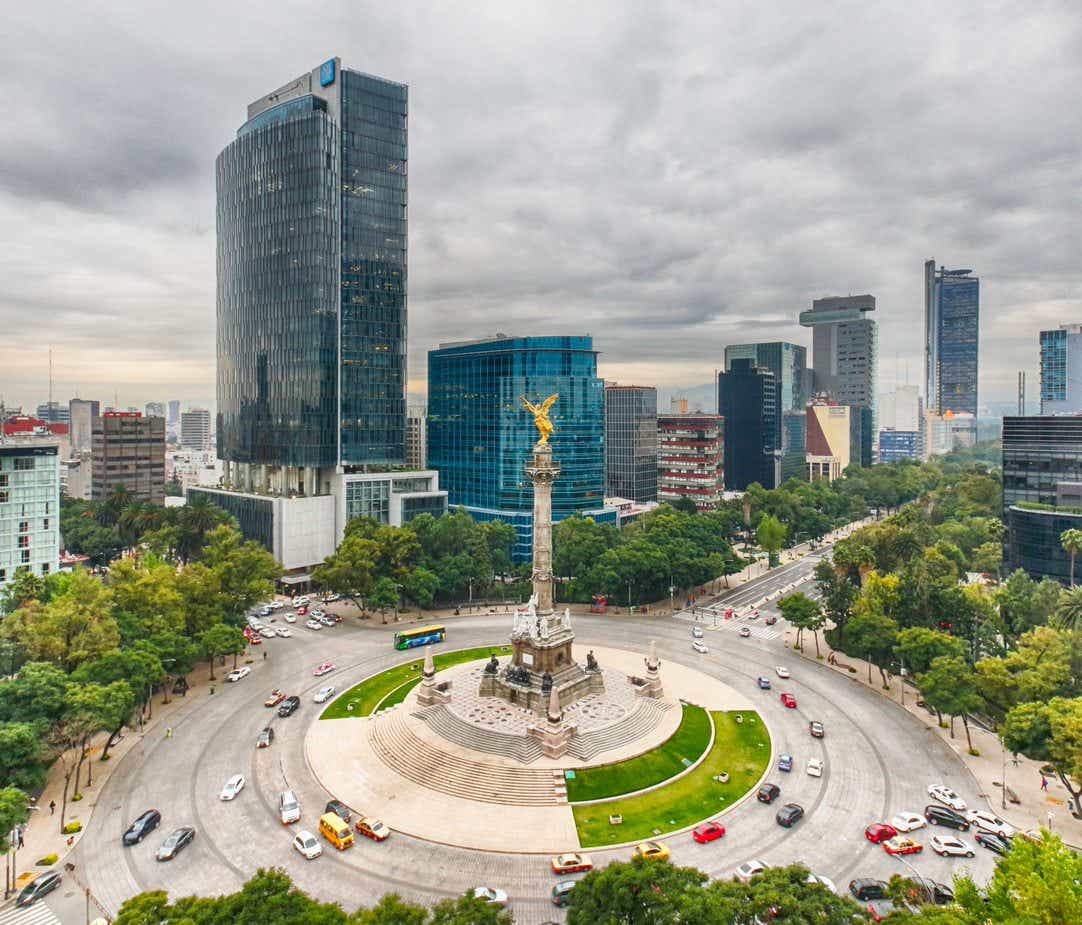 In the news: AB-5, California's Worker Classification Law, Stands as Supreme Court Decides NOT to hear case
The U.S. Supreme Court announced on June 30 it won't review whether AB-5, a California state worker classification law, applies to truck drivers.
This law – which relates to the classification of workers either as employees or independent contractors – has been on the books in California for two years, but federal courts have blocked the law from applying to truck drivers due to ongoing litigation and appeals.
But now, with the Supreme Court's June 30 decision, the injunction will be lifted making compliance with AB-5 a reality for trucking companies in California.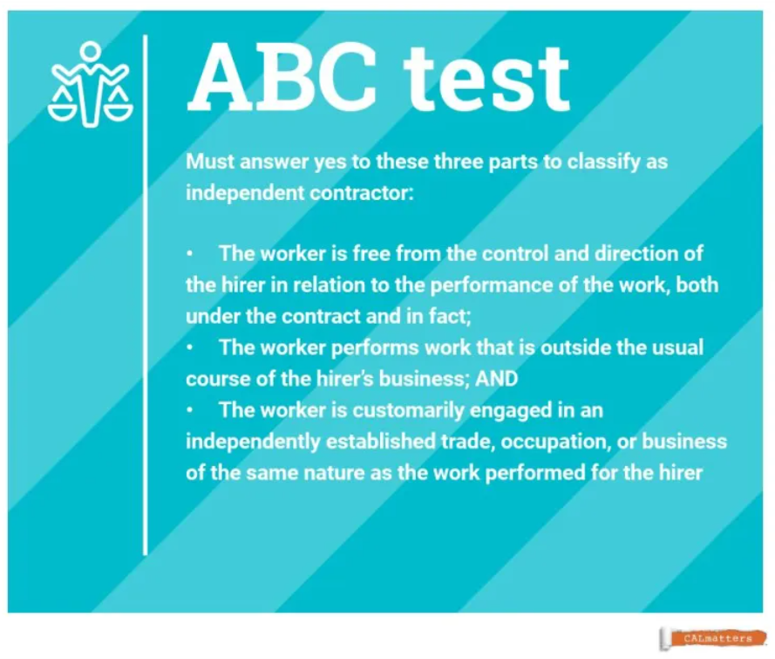 AB-5:  In practical terms what does the supreme court decision mean for shippers?
In California:
In the coming months, we expect to see Owner Operator truck drivers do one of three things: (1) convert to employee drivers; (2) go it alone by obtaining their own operating authority and insurance, and then managing their loads across multiple shippers/brokers (as opposed to leasing on with a single carrier); or (3) exit the California market.
As it relates to Schneider, we have already positioned our California services in a way that allows us to meet the commitments to you, our valued customer. Even though AB-5 is now applicable to trucking companies, we will see little to no impact to Schneider operations and our ability to service our customers.
In other states:
This does not change the Owner Operator model in states other than California. 
Owner Operators are, and will continue to be, an important source of capacity for the industry.
As it relates to Schneider, we are proud to do business with Owner Operators in states other than California.
Update for port shippers: West coast port labor union contracts expired on July 1, 2022, as negotiations continue
The current contract, which covers the International Longshore and Warehouse Union's more than 22,000 workers at the 29 ports dotting the Pacific coast of the U.S., expired July 1.
Both organizations expected the contract to expire and are actively working to reach an agreement. While there has been no contract extension, they are assuring shippers that cargo will keep moving.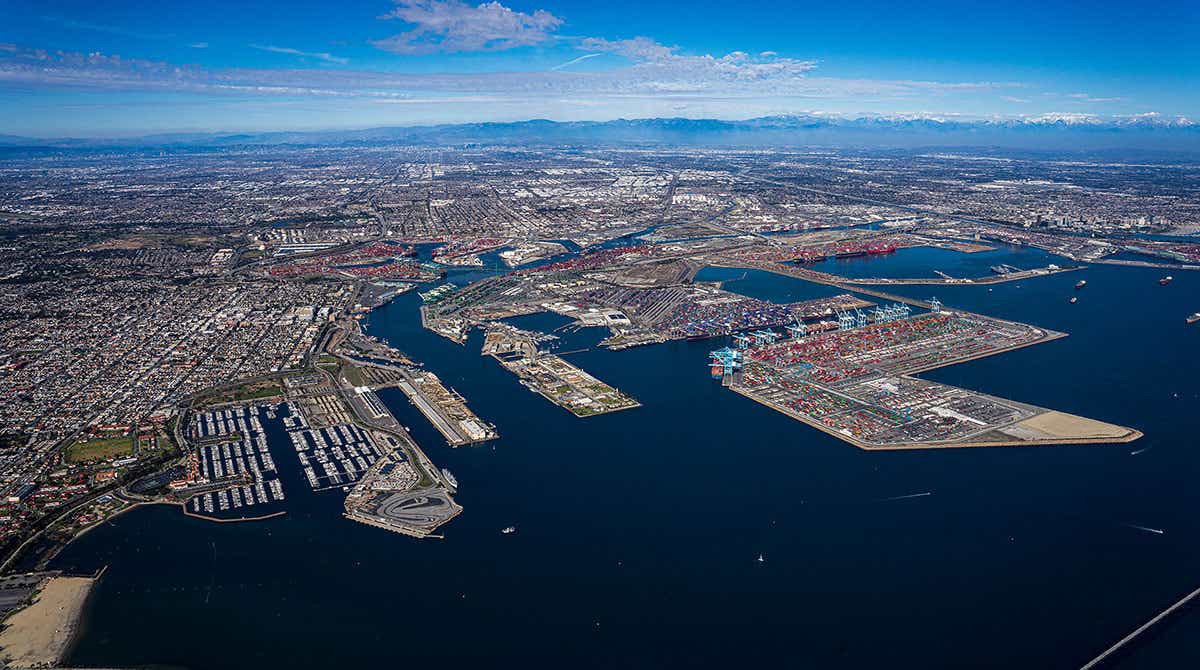 Various industry associations—including the National Retail Federation, American Chemistry Council, California Trucking Association, and the National Industrial Transportation League, and many others—recently penned a letter to President Biden, calling on the White House to reach a new agreement without any disruption to port operations, specifically pointing out the upcoming Peak Season.
Schneider's advice for Port shippers: Now is the time to put contingency and port diversification plans in place.
How?
Shifting/multi-port and distribution strategies to reduce your risk.
Maintain strategic business relationships with providers who can help your supply chain stay nimble through the utilization of new strategies and ideas -- "don't fear failure."
Be willing to try new strategies and take calculated risks.  shifting/multi-port and distribution strategies to reduce your risk.
Are you looking at ways to optimize your port strategy? Utilizing pop up DC's? Bypassing DC/s? Utilizing Schneider Capacity Stacking℠?
Schneider highlights progress on key environmental and social initiatives in second annual Corporate Responsibility Report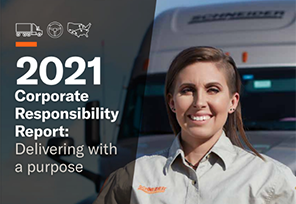 In the news: COVID-19 cases and hospitalizations rising throughout the U.S. and China due to the emerging dominance of the BA.5 variant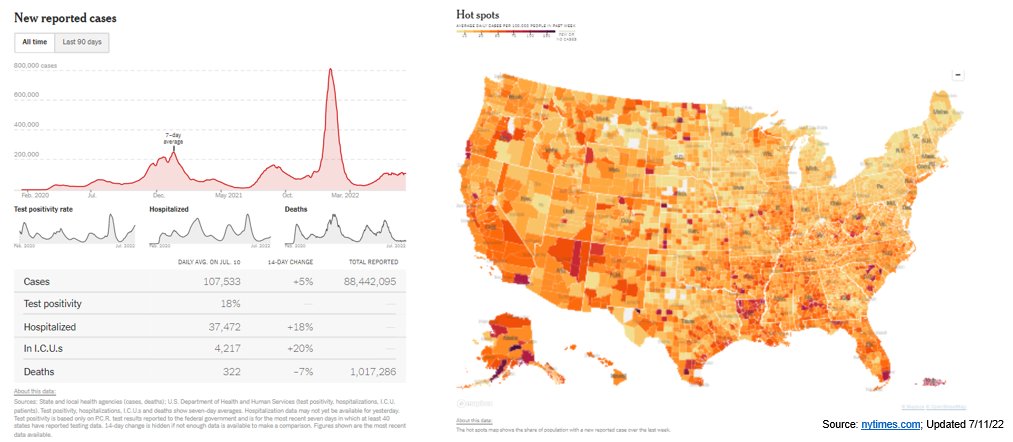 In the U.S., the number of known cases each day remains relatively stable, but rising positivity rates are showing an emerging dominance of the BA.5 variant in areas around the country that are experiencing outbreaks.
The known number of cases is expected to be underreported, but on average there are more than 33,000 people in U.S. hospitals with coronavirus on a given day – the highest national average since early March.
In China, multiple cities are adopting fresh COVID-19 curbs to rein in new infections, being as cautious as possible to avoid more major disruptions, as experienced earlier in the year.
Register today
Quote, book and track your Intermodal, Truckload and LTL freight with Schneider. FreightPower®.
Federal Motor Carrier Safety Administration National Emergency Declaration
The Emergency Declaration was issued following the declaration of a national emergency by the President in response to the Coronavirus Disease 2019 (COVID-19). Regulatory relief is provided for commercial motor vehicle operations providing direct assistance in support of emergency relief efforts related to COVID-19.
The Emergency Declaration has been extended multiple times. The June 1, 2022 update shall remain in effect until August 31, 2022, unless modified or terminated sooner by FMCSA.
The Emergency Declaration is limited to transportation of:
Livestock and livestock feed.
Medical supplies and equipment related to the testing, diagnosis and treatment of COVID-19.
Vaccines, constituent products, and medical supplies and equipment including ancillary supplies/kits for the administration of vaccines, related to the prevention of COVID-19.
Supplies and equipment necessary for community safety, sanitation, and prevention of community transmission of COVID-19 such as masks, gloves, hand sanitizer, soap and disinfectants.
Food, paper products and other groceries for emergency restocking of distribution centers or stores.
Direct assistance does not include routine commercial deliveries, including mixed loads with a nominal quantity of qualifying emergency relief added to obtain the benefits of this emergency declaration.
See the full Emergency Declaration, Restrictions, and Limitations on the FMCSA website.

Schneider is committed to following the FMCSA Emergency Declaration while maintaining our #1 Core Value of safety among our drivers and associates.
COVID-19 – Actions to maintain safety among drivers and customers
We continue to closely monitor information related to the COVID-19 outbreak and – as always – our priority is to protect the health and safety of our associates, our drivers, our customers, and the general public. Our crisis management team is continually monitoring the situation and is taking steps to ensure the wellness and safety of our associates.
Recognizing that our drivers are the backbone of our business, we are in regular communication through our driver support teams to ensure that they are well informed as to the environment they are operating in. Their safety and wellness are a top priority.
Your business is very important to us and we are happy to answer more questions related to specific worksites or regions should you have them.
For the latest information on COVID-19, please visit the Centers for Disease Control and Prevention's website.
Our associates and transportation experts are available to help with supply chain strategy and shipping needs to respond to the pandemic. You can count on Schneider to provide your business with the same exceptional service and timely support we've provided shippers for 85+ years.
More valuable supply chain and logistics news
Drive your business forward
Sign up to receive our industry leading newsletter with case studies and insights you can put to use for your business.