Erin Van Zeeland receives inaugural women in supply chain award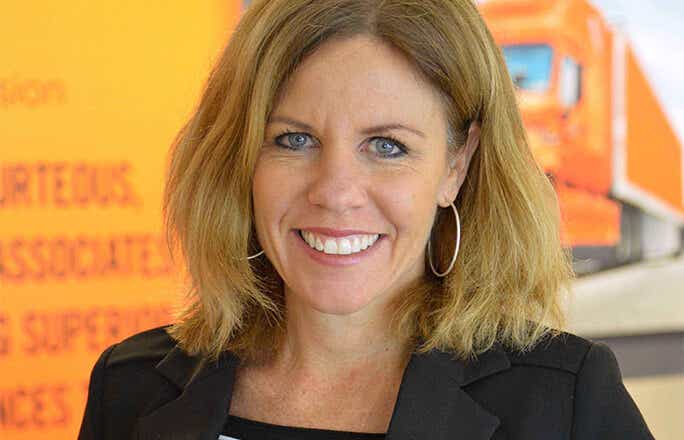 Schneider senior leader's accomplishments and mentorship recognized among best in the industry
GREEN BAY, Wisconsin – September 23, 2020 – Erin Van Zeeland, Schneider's senior vice president and general manager of logistics services, was named a recipient of Supply & Demand Chain Executive's first-ever Women in Supply Chain Award. The accolade honors female supply chain leaders and executives whose accomplishments, mentorship and examples set a foundation for women in all levels of a company's supply chain network.
The publication received over 200 entries, and each nominee was evaluated based on her answers to the following prompts:
Key leadership roles, initiatives, achievements and awards
Insights on key challenges facing customers and their supply chains, and the actions taken to meet those challenges
Goals for the industry and the steps taken to accomplish them
How the supply chain can better align with a company's broader strategy
In her role, Van Zeeland is responsible for all aspects of the company's Logistics service offering, ensuring that over 36,000 third-party carriers and service providers are effectively utilized to meet the transportation needs of its customers. In addition to transportation solutions, Van Zeeland's team provides managed logistics, warehouse, supply chain consultation and distribution management services focused on cost-effective end-to-end supply chain and network solutions.
More specifically, Van Zeeland has been a driving force behind numerous technological advancements at Schneider. Her vision and deep understanding of data science has enabled Schneider's Tech and Operations teams to design and implement engineering intelligence on the company's automated decision-making platform. She was also instrumental in launching Schneider FreightPower®, which gives shippers access to an expanded, highly flexible capacity network backed by a trusted, experienced carrier. These are just a few of the multitude of examples of her dedication to technology that helps customers to move their products more efficiently.
Van Zeeland's full bio and the complete list of winners will be published in the September print issue of Supply & Demand Chain Executive. To learn more about how Schneider Logistics delivers for shippers and carriers, visit https://schneider.com/our-services/logistics.
About Schneider
Schneider is a premier provider of transportation and logistics services. Offering one of the broadest portfolios in the industry, Schneider's solutions include Regional and Long-Haul Truckload, Expedited, Dedicated, Bulk, Intermodal, Brokerage, Warehousing, Supply Chain Management and Port Logistics.
With nearly $5 billion in annual revenue, Schneider has been safely delivering superior customer experiences and investing in innovation for over 80 years. The company's digital marketplace, Schneider FreightPower®, is revolutionizing the industry giving shippers access to an expanded, highly flexible capacity network and provides carriers with unmatched access to quality drop-and-hook freight – Always Delivering, Always Ahead.
For more information about Schneider, visit Schneider.com or follow the company socially on LinkedIn and Twitter: @WeAreSchneider.