Schneider Celebrates Award Winning Drivers for Safety and Excellence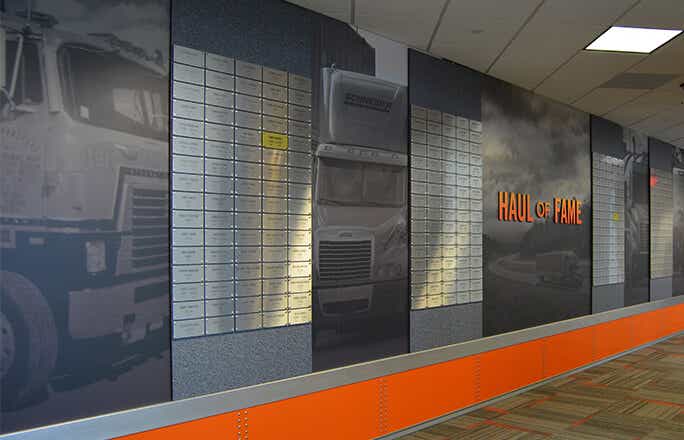 Over 200 Drivers Honored for Exceptional Professional Truck Driving Achievements
GREEN BAY, Wisconsin – March 3, 2020 – Schneider (NYSE: SNDR), a premier provider of trucking, intermodal and logistics services, is honoring 233 of its most accomplished drivers with awards celebrating career driving milestones that exemplify the company's core values of safety and excellence. Included in the esteemed awards are Haul of Fame Inductions, Million Mile Driver Awards and Consecutive Safe Driving Year Awards.
Throughout February and March, Schneider will host 17 award banquets across the U.S. and Canada to celebrate these special drivers who have safely reached thousands of customers across millions of miles without a single accident.
"Schneider simply wouldn't succeed without the skill and commitment put forth by our professional driver force," said Tom DiSalvi, vice president of safety, driver training and compliance at Schneider. "These awards give us a chance to celebrate and honor those who embody our core values every day of the year and every mile on the road."
The prestigious honor of induction into Schneider's Haul of Fame is reserved for drivers who have accumulated at least three million safe driving miles and/or 20 consecutive years of safe driving without an accident. This year, 25 drivers met the criteria for the first time, earning them membership alongside over 300 of Schneider's elite drivers. Each inductee will have a commemorative plaque installed on the Haul of Fame wall at Schneider's corporate headquarters in Green Bay, Wisconsin. Among this year's honorees, 12 members will have their Haul of Fame plaque updated to reflect a higher level of safe miles achievement.
The Million Mile Award is an honor earned by Schneider drivers who have transported freight over one million miles while remaining accident-free. This year, 62 new inductees are joining the ranks of 6,229 Schneider million milers, which amounts to billions of miles driven without a single accident.
This year's Million Mile Award winners include:
62 new 1-Million Mile Awards
21 new 2-Million Mile Awards
16 new 3-Million Mile Awards
1 new 4-Million Mile Award
Additionally, Schneider recognizes drivers who have remained accident-free for 10 consecutive years and each five consecutive year increment thereafter. This year, 96 drivers have achieved this status, joining over 1,000 active Schneider drivers who have attained at least one of the Consecutive Years Safe Driving milestones.
Professional drivers who are interested in earning a spot in the Haul of Fame can visit SchneiderJobs.com to explore available career opportunities.
About Schneider
Schneider is a premier provider of transportation and logistics services. Offering one of the broadest portfolios in the industry, Schneider's solutions include Regional and Long-Haul Truckload, Expedited, Dedicated, Bulk, Intermodal, Brokerage, Warehousing, Supply Chain Management and Port Logistics.
With nearly $5 billion in annual revenue, Schneider has been safely delivering superior customer experiences for over 80 years.
For more information about Schneider, visit Schneider.com or follow the company socially on LinkedIn and Twitter: @WeAreSchneider.