Schneider debuts first-of-its-kind innovation center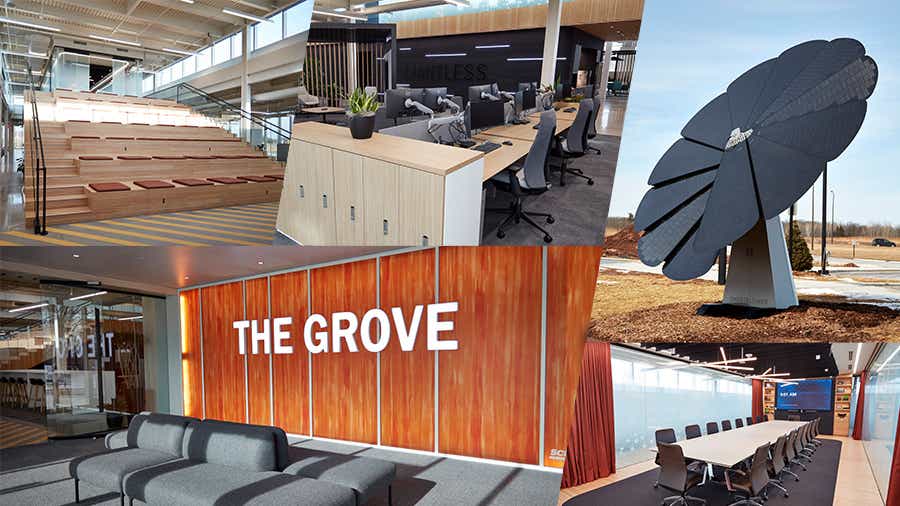 The company's
new fac
ility
,
The Grove, will serve as
an incubator for
breakthrough ideas
for transportation and
logistics
GREEN BAY, Wis. (May 17, 2023) – Schneider National Inc. (NYSE: SNDR), a premier multimodal provider of transportation, intermodal and logistics services, is reimagining innovation in the transportation industry with the opening of The Grove. This new innovation center aims to unleash creativity and potential while providing a dedicated collaboration space for Schneider associates as well as customers.
"The Grove is an investment in breaking down barriers. It's where we will discover untapped potential and unearth solutions, which will drive our company and the larger industry forward," said Schneider President and CEO Mark Rourke. "We are thrilled to finally open our doors at The Grove, and we are excited about what this investment brings to our community. We are helping to put Green Bay on the map as an innovation hub for transportation and logistics."
The 20,000 square-foot facility is located on the campus of Schneider's headquarters in Green Bay, Wisconsin, and houses cutting edge technologies that will enable teams to further drive transformational innovation across the supply chain and logistics ecosystem.
"The Grove will play a crucial role in building the future," said Schneider Executive Vice President and Chief Innovation and Technology Officer Shaleen Devgun. "Our goal in opening The Grove is to provide access to state-of-the-art tools and spaces that spark creativity, fulfill our promise to always deliver and always be ahead, and lead to decades of innovative ideas and solutions across the industries we serve."
The company looks forward to hosting a variety of stakeholders at The Grove including associates, the community, and industry allies. Customers will also have the unique opportunity to visit the space to co-create solutions to advance and improve business practices.
The Grove also reflects best-in-class environmentally responsible building practices and has a minimal impact on the surrounding environment. In addition to being constructed from sustainable building materials, it features a geothermal heating and cooling system, solar technology, LED lighting, efficient plumbing fixtures, and glass windows that help regulate temperature.
To watch the event livestream, tune in on Schneider's Facebook page at 10:00 a.m. CST:
To learn more about how Schneider invests in staying ahead, visit:
Note to the Media: Video and a soundbite from Shaleen Devgun are available for download in Schneider's media kit,