Schneider finds creative avenue to connect with potential drivers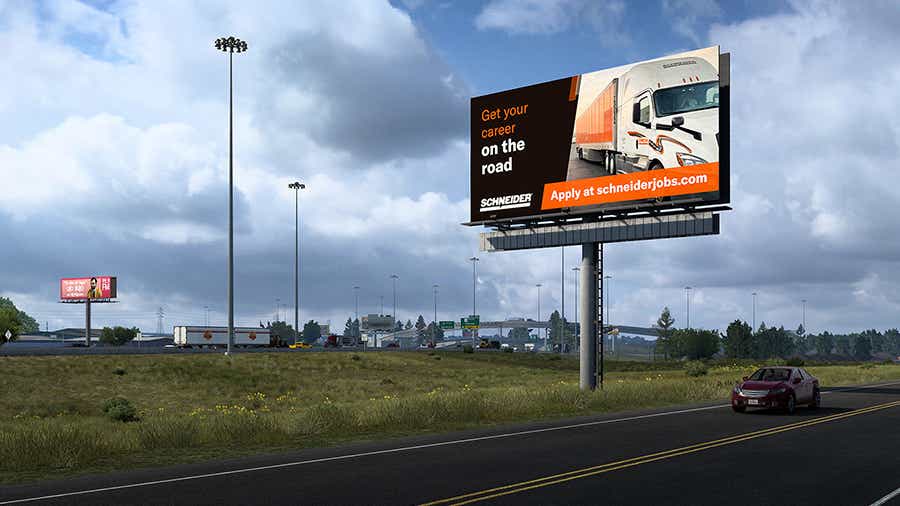 The transportation and logistics provider has begun advertising in a truck-focused video game
GREEN BAY, Wis. (August 22, 2023) – Schneider National Inc. (NYSE: SNDR), a premier multimodal provider of transportation, intermodal and logistics services, has collaborated with the video game "American Truck Simulator" in a move to recruit new drivers.
Over the last year, Schneider driver instructors noticed a number of new drivers arriving at training were more advanced than others. Following discussions with the recruits, the carrier found its answer, "American Truck Simulator."
"American Truck Simulator," a video game developed by SCS Software, allows players to get a near-firsthand experience of life as a truck driver, and replicate real-world situations, including penalizing players for breaking road rules.
While on the virtual roadways, game users pass by billboards with messages from Schneider encouraging players to take their skills to the real world and join the Schneider team.
"At Schneider, we pride ourselves on seeking out talent from diverse areas and employing the best, safest drivers," said Schneider Executive Vice President and Chief Administrative Officer Rob Reich. "When we found out this game was directly translating to driver skills, we knew we needed to seize the opportunity and think outside of our traditional recruitment strategies and use it to attract new drivers."
Schneider was the first real-world logistics brand to appear on billboards, which otherwise feature fabricated advertisements or messages from the developers to the community.
"American Truck Simulator" is one of the most popular PC games in the trucking genre. With its growing community of devoted players, the game gives Schneider an opportunity to connect with potential new drivers who have an interest in joining the transportation industry.
"We wanted to engage with players in the game as they clearly are interested in this type of challenge and they might enjoy driving as a career," said Reich.
Named by numerous third parties as a top employer, Schneider is encouraging more passionate individuals to join the carrier's ever-evolving team.
For more information on jobs at Schneider, please visit: www.SchneiderJobs.com
About Schneider
Schneider is a premier provider of transportation, intermodal and logistics services. Offering one of the broadest portfolios in the industry, Schneider's solutions include Regional and Long-Haul Truckload, Expedited, Dedicated, Bulk, Intermodal, Brokerage, Warehousing, Supply Chain Management, Port Logistics and Logistics Consulting.
With over $6.6 billion in annual revenue, Schneider has been safely delivering superior customer experiences and investing in innovation for over 85 years. The company's digital marketplace, Schneider FreightPower®, is revolutionizing the industry giving shippers access to an expanded, highly flexible capacity network and provides carriers with unmatched access to quality drop-and-hook freight – Always Delivering, Always Ahead.
For more information about Schneider, visit Schneider.com or follow the company socially on Facebook, LinkedIn and Twitter: @WeAreSchneider.
Source: Schneider SNDR