Schneider named to FreightTech 25 list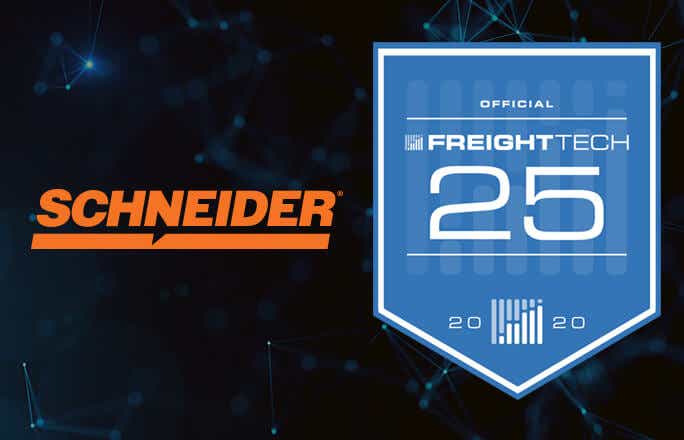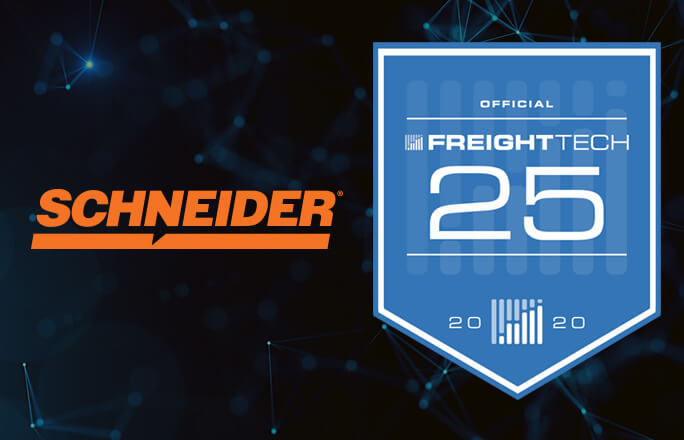 Transportation Provider Honored for Breakthroughs in Developing and Implementing Industry-Leading Technology
Transportation Provider Honored for Breakthroughs in Developing and Implementing Industry-Leading Technology
Schneider (NYSE: SNDR), a premier provider of transportation and logistics services, has been named to FreightWaves' 2020 FreightTech 25 list. The FreightTech 25 list, which highlights the most innovative and disruptive companies across the freight industry, was unveiled at FreightWaves LIVE Chicago on November 13.
Schneider was named to the FreightTech 100 last month. Companies named in the FreightTech 100 were judged by an external panel of industry experts, with voting conducted and overseen by accounting firm Katz, Sapper & Miller (KSM). Each member of the panel ranked their top 25 companies on a 1 to 25 point basis. The companies generating the most points comprise the FreightTech 25.
"Last year when we decided to roll out an awards recognition, we wanted to do it differently. A lot of awards in the industry are pay to play, and they end up meaning nothing," FreightWaves CEO Craig Fuller said. "We decided to create a freight tech award that has actual meaning."
Schneider has been blazing new trails for generations through its innovative technology solutions. According to Shaleen Devgun, Schneider's chief information officer, the company's continuing commitment to developing and implementing next-gen technology to enhance the supply chain keeps it at the head of the pack.
"Every aspect of Schneider's business is so steeped in technology that we often say Schneider could be considered a tech or data company that just happens to have trucks," says Devgun. "In fact, we invest more than $100 million annually in robust data science capabilities, proprietary technology and strategic tech initiatives."
Schneider's technology, assets and third party relationships position it to be a digital transportation powerhouse – a leader in shipper, carrier and driver experiences. It uses these strengths and capabilities to further power growth by bringing value to shippers, carriers and drivers.
"The transportation industry is in a state of flux, with technology-enabled digital marketplaces creating opportunities and re-inventing business models," notes Devgun. "Achieving our strategic vision requires a continued transformation and digitization of our people, technology and processes."
Schneider is executing this vision with its digital transportation marketplace capability, which is resonating well with customers and carriers alike and allows the company to diversify and deliver the best option, with the best value. Regardless of economic cycles and capacity conditions, Schneider can provide carriers and shippers with value, transparency, visibility and control.
Data science and the development of artificial intelligence (AI) will continue to power Schneider's digital transformation. The company recently launched ETAiTM, a proprietary technology and direct API data connection that can predict more accurate arrival times for shippers and drivers. Because ETAiTM leverages a multitude of data points not available to data aggregators, along with proprietary data science, Schneider has seen up to 39% more accuracy than tracking aggregators are able to provide.
In addition to bringing original content to market, Schneider continues to also leverage content built by third parties to create value within the supply chain ecosystem. Examples of recent technology launch or enhancements with third-party providers include:
Partnership with Truckstop.com and Trucker Tools to provide Book It Now functionality, which creates great visibility of freight options and ease of use for carriers.
Partnership with Trucker Tools load tracking, carrier engagement, capacity visibility and predictive freight-matching software to deliver a better experience for carriers and easier access to the high-quality loads they expect from Schneider.
Partnership with Platform Science, an Internet of Things platform, for an ELD solution that allows Schneider to integrate its own applications and third-party tools with Platform Science. This technology is different from legacy telematics providers that are software-centric solutions as it encourages the development of additional tools by enterprise carriers and third parties and provides the infrastructure for cross-application data flows.
As Schneider builds off of an award-winning 2019, it will continue to add technology partners, carriers and new marketing initiatives to the existing technology expertise in its Engineering and Development areas. In addition, it will continue to invest in artificial intelligence (AI) to launch new technology and improve shipper, carrier and driver experiences.
About Schneider
Schneider is a premier provider of transportation and logistics services. Offering one of the broadest portfolios in the industry, Schneider's solutions include Regional and Long-Haul Truckload, Expedited, Dedicated, Bulk, Intermodal, Brokerage, Warehousing, Supply Chain Management and Port Logistics.
With $5 billion annual revenue, Schneider has been delivering superior customer experiences and safely getting it done for over 80 years.
For more information about Schneider, visit www.schneider.com or follow the company socially on LinkedIn and Twitter: @WeAreSchneider.