Schneider Wins the CIO 100 Innovation Award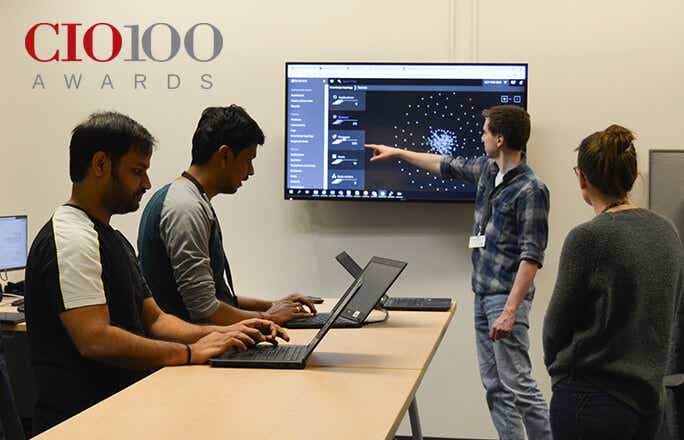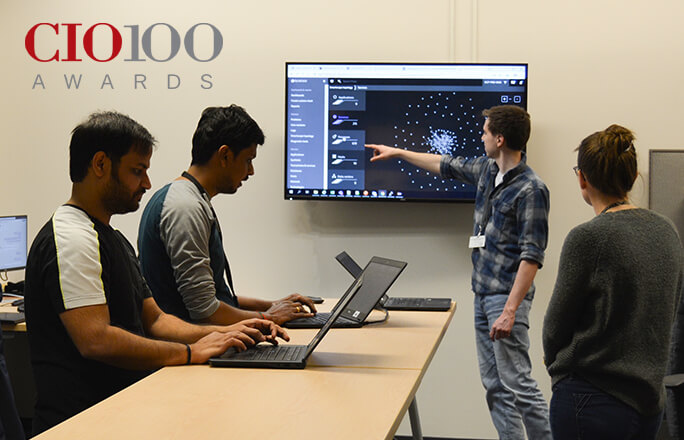 Company recognized as technology leader for advancements in innovative solutions to benefit shippers, drivers, carriers
GREEN BAY, Wisconsin – March 10, 2020 – Schneider (NYSE: SNDR), a premier provider of trucking, intermodal and logistics services, earned the 2020 CIO 100 Award for Innovation for its leadership position in utilizing technology and processes to improve the experience of customers, associates and carriers.
The distinguished CIO 100 Award is given to organizations that use technology in ways that add value to the business by either enhancing internal processes or improving the customer experience in meaningful ways. Through the use of artificial intelligence, advanced Internet of Things technology and data science, Schneider streamlines operations and continues to aggressively forge ahead in its leadership position of groundbreaking innovation in the transportation and logistics industry.
"Our ability to harness the power of data science, automation and artificial intelligence has an immense impact on the value that we provide," said Shaleen Devgun, Schneider's chief information officer and a prior winner of the Forbes CIO Innovation award. "Positive disruption in the tech space is core to our culture and our effort to improve supply chains in an ever-changing landscape."
Recent advancements contributing to Schneider's reputation as a leader in innovative technology integration and optimization include:
Proprietary ETAi™ technology: This gives customers real-time updates on delivery estimates without manual input required from the driver. By giving direct insight into weather, traffic and hours of service information, shippers can find peace of mind regarding their freight arrival.
Tablet-based transportation platform: A recent multimillion-dollar investment to create this platform that delivers content to all company drivers in or out of the truck has been very successful. Drivers receive important notifications via a tablet that improves their productivity, communication and ability to deliver their freight, on time and as promised.
Decision Service Platform D4 (data-driven dynamic decisions): This platform is used to enable rapid development and modular deployment of decision science models across the enterprise. By leveraging vast amounts of internal and external data, the system increases decision automation and efficiency, allowing Schneider to say "yes" to more customers and maximize revenue.
"Our talented associates are always innovating to deliver tangible value by harmonizing business process with technology," said Mark Rourke, Schneider's president and chief executive officer. "We keep our leading position in the transportation and logistics industry through creating efficiencies that benefit all stakeholders in the supply chain."
To learn more about how Schneider leverages its innovative technology for shippers, visit Schneider.com. Those interested in joining a company at the forefront of disruption and innovation can view career opportunities at SchneiderJobs.com.
About Schneider
Schneider is a premier provider of transportation and logistics services. Offering one of the broadest portfolios in the industry, Schneider's solutions include Regional and Long-Haul Truckload, Expedited, Dedicated, Bulk, Intermodal, Brokerage, Warehousing, Supply Chain Management and Port Logistics.
With nearly $5 billion in annual revenue, Schneider has been safely delivering superior customer experiences safely for over 80 years.
For more information about Schneider, visit Schneider.com or follow the company socially on LinkedIn and Twitter: @WeAreSchneider.