Shipper | Best practices
6 questions to ask when looking for a low-density freight shipping solution
If you're looking for a solution for low-density or hard-to-predict freight, it's important to find a shipping provider that meets your needs.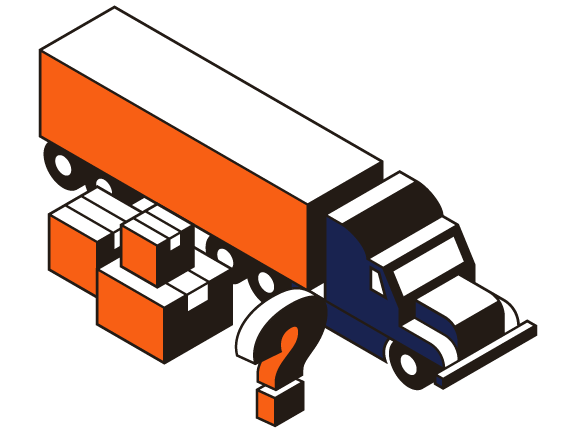 In today's challenging market, budgets are tight and teams are being stretched thin. Needing to ship low-density, inconsistent and sporadic freight isn't making your job any easier. This freight can be time-consuming and inefficient to move, and it's likely distracting you from your core business.
Many shippers find that neither contracted providers nor the spot market are effective ways to ship low-density and hard-to-predict freight. In a tight market, contracted carriers may turn down freight, making it a struggle for you to secure capacity. In a favorable market, you may be overpaying a contracted provider for your low-density freight.
On the spot market, it's difficult to project low-density freight costs. You'll end up with price variability without any sense of how competitive the rates you're getting actually are. Plus, the spot market requires a lot of effort to manage and doesn't provide the visibility you need to have an accurate picture of your shipping.
If you're looking for a new solution for shipping low-density or hard-to-predict freight, it's important you find a shipping provider that's the right fit for your needs — even as your needs change over time. When evaluating a solution, ask potential carriers these six questions:
1. How will your shipping solution save me time?
As you know, shipping on the spot market can be time-consuming. Ideally, the provider's team would manage everything, saving your team time and effort. Working with a single provider will also eliminate time wasted on the quote-to-deliver process.
Unlike contract rates and routing guides, the provider's solution should allow for automatic adjustments that will save money when market conditions shift, with no extra effort.
2. Is pricing indexed against a subjective or objective value?
Cost-plus models — where a markup is added on top of the actual rate paid to a carrier by your provider — can lead to pricey rates. Look for a provider that instead leverages a third-party index such as DAT in real time to provide transparent, competitive pricing. The provider will be held accountable to the true, nationally recognized market rates.
This means you won't experience pricing surprises or feel like you could have gotten a better deal. Providers using index-based pricing have accountability to purchase at competitive rates. Unlike providers who use a cost-plus model or establish rates with their own data, those with an index-based pricing model have skin in the game and can save you money. For example, Schneider's Market Index Pricing solution saves shippers an average of 3%-5%.
3. What flexibility exists with this solution?
In such a tight market, it's impossible to predict how rates for low-density freight may change over time. You don't want to get stuck in a contract that ends up costing you more money down the road. Make sure that the shipping solution you choose offers flexibility should market conditions change. A good solution will allow you to change your volume threshold and market parameters as needed. It will also provide a backstop in your routing guide for covering primary carrier turndowns. Look for a provider that offers the flexibility that your freight requires, such as accepting live-loaded or pre-loaded freight.
4. Do you offer 100% load acceptance?
Turndowns create headaches and require more time and effort as your team scrambles to find another shipping solution. A good solution will offer 100% load acceptance so you're not left trying to ship certain loads on your own.
5. What value-added services do you offer to shippers?
Find out what other benefits a transportation provider can offer in addition to shipping your low-density and hard-to-predict freight, such as helpful reporting and state-of-the-art technology. A good provider will not only deliver reports on shipping performance but also analyze results and provide recommendations for improvement. Innovative technology can enhance the service you receive as well as improve the safety and security of your shipping.
Ideally, a provider will deliver more than the basics. Look for a solution that goes the extra mile.
6. Do you offer API connectivity for faster quoting?
An API integration with your transportation management system (TMS) can streamline the quoting process and allow you the ability to pull index-based pricing. Make sure that your provider allows real-time access to this information.
Before selecting a transportation provider for your low-density or hard-to-predict freight, make sure you know the answer to each of these questions. Once you do, you can rest assured you've found the best solution for your business.
Drive your business forward
Sign up to receive our industry leading newsletter with case studies and insights you can put to use for your business.