Shipper | Market updates 1 min. read
From Nearshoring to Cooperative Procurement—Here are 5 Trends Shaping the Future of Small Business Supply Chains
88% of Small Businesses Supply Chains Will Use Suppliers Closer to Home Within the Next Year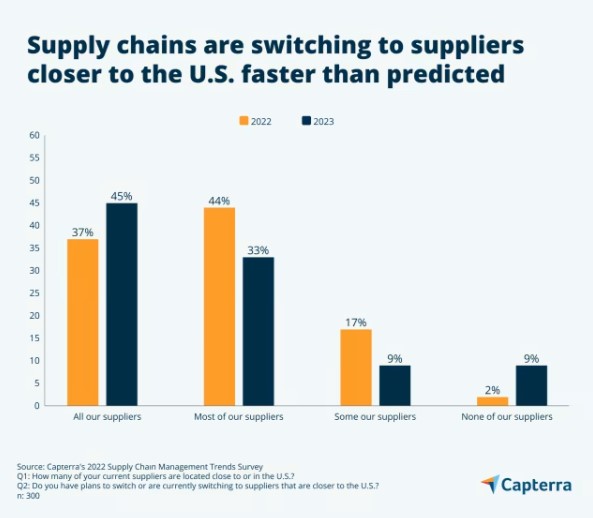 Capterra recently surveyed 300 supply chain professionals at small to midsize businesses to learn about the challenges these companies are facing in the changing landscape, and identified nearshoring as a top trend.
Many corporate giants have already found new suppliers closer to home and have made substantial investments in U.S. manufacturing. Apple has nearly doubled the number of their suppliers based in the U.S. just this year. General Motors and Boeing are each investing heavily in manufacturing plants in the U.S. and Mexico. But the switch to nearshoring is happening faster than was predicted in 2021.
Data shows that nearshoring is happening fast: 88% of small and midsize supply chain professionals have plans to switch at least some of their suppliers to ones closer to the U.S. 45% plan to switch all of them.


Capterra highlights a few benefits of nearshoring, including:
Easier to manage critical situations with shorter travel distances and smaller time zone difference.

Financial incentives between the U.S., Mexico and Canada are offering competitive labor costs and quicker delivery.

Strong existing trade agreements that the U.S has with nearby countries make import requirements much easier.

Fewer cultural disparities due to many nearby suppliers having similar labor, health and safety laws to the U.S.
Capterra notes that macro factors, such as war and climate change will continue to change the supply chain landscape. They also suggest to map out your current supply chain as far up the chain as possible and research potential replacement suppliers that are closer to home.

One way that Schneider can help with this is to provide shippers logistics engineering and consulting services to define areas of opportunity to optimize your supply chain.
About the Mexico transportation market update
Schneider publishes this regular transportation market update to keep you informed of freight market conditions, supply and demand influencers, and disruptions that may impact your supply chain. 
This report is developed by leveraging data and analytics from multiple transportation industry resources.
This report focuses on the Mexico Transportation Market. View the full Transportation Market Update here.
Weather advisory page -- For the latest information on hurricane season and the impacts on supply chains, please see our weather-advisory page.
Drive your business forward
Sign up to receive our industry leading newsletter with case studies and insights you can put to use for your business.