Shipper | Market updates 2 min. read
How a Texas border city is shaping the future of global trade
Commercial transport through Laredo, Texas continues to grow as nearshoring increases.
How a Texas border city is shaping the future of global trade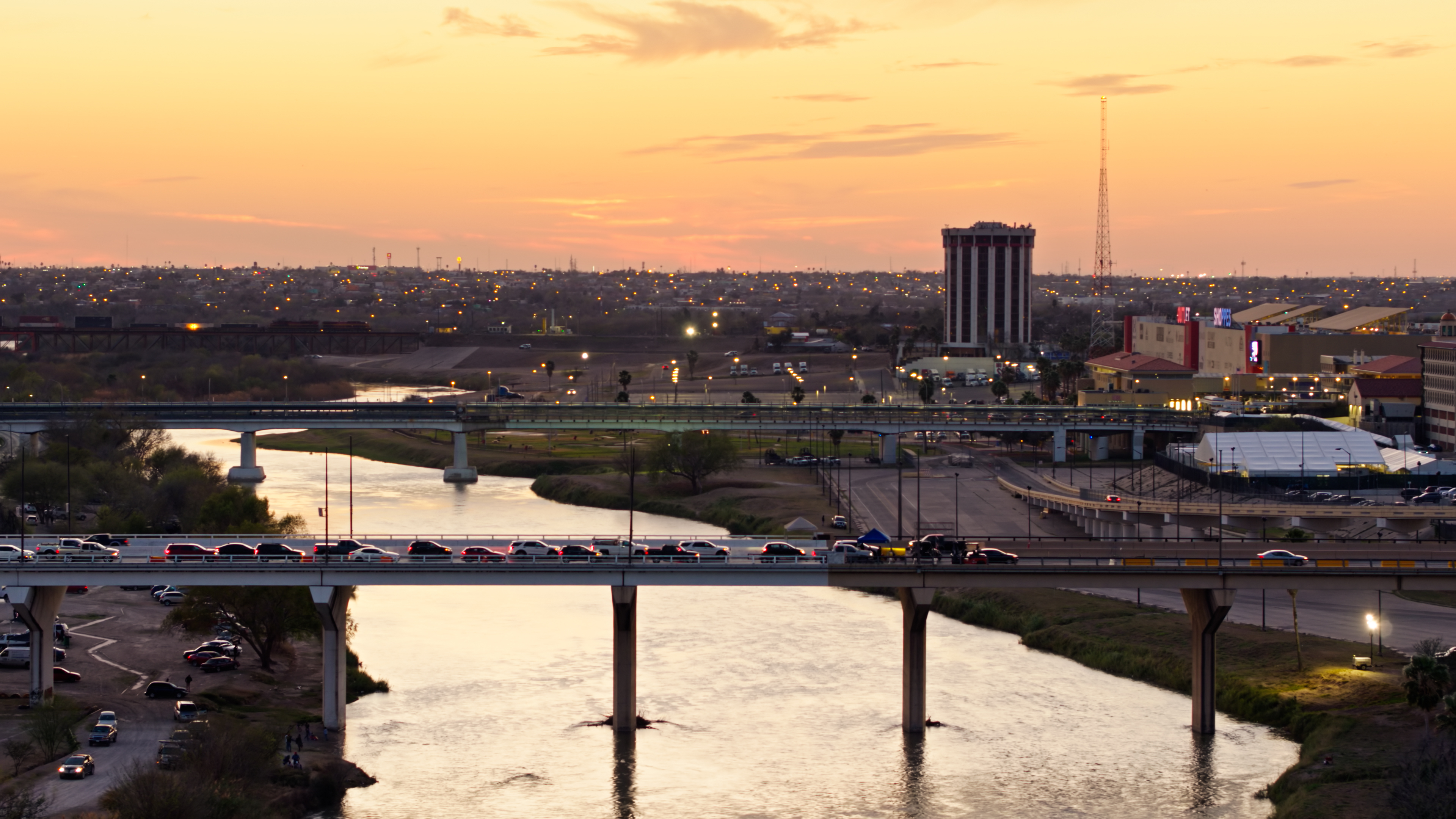 About $800 million worth of products as diverse as auto parts, clothing and avocados pass through Laredo, Texas every da
In October 2022 alone, data showed that $27 billion worth of freight moved through Laredo in October, exceeding the flow through the twin ocean ports of Los Angeles and Long Beach, California, the primary gateway for American imports.
With many companies adopting a nearshoring approach to move manufacturing operations closer to the U.S., primarily in Mexico, this is the beginning of what could be decades of growth in trade between the two neighboring countries, as American retailers seek suppliers in the same hemisphere as their customers.
Two million square feet of warehouse space is under construction in Laredo, according to Prologis, a real estate investment firm. That amounts to a 5 percent increase in space.
But with warehouses more than 98 percent occupied, the new facilities may be quickly filled.
Laredo is working to keep up. "We've got to get ahead of this tsunami that's coming," said Laredo's then-mayor, Pete Saenz. "We're behind now."
A huge build-out is underway. North of the city, industrial parks, warehouses and trucking yards on both sides of Interstate 35 are being built. $1.6B in transportation is planned over the next 10 years through the Texas Department of Transportation's 2023 Unified Transportation Program (UTP).It will fund 16 major projects in Laredo, including improvements to: IH-35, US 59, SH 359, SL 20, and Vallecillo Road.
Railroad Kansas City Southern is funding a second international railway bridge for $100M. This project will result in a double track that allows travel in both directions without stopping, and is able to operate 24 hours per day, 7 days per week, significantly increasing the traffic over the bridge.
What does this mean to shippers?
The transition to nearshoring in Mexico is quickly increasing traffic across the two major bridge crossings in Laredo, TX. The INEGI data shows us the growth trends over the past 10 years, but especially highlights the spike in activity since 2021.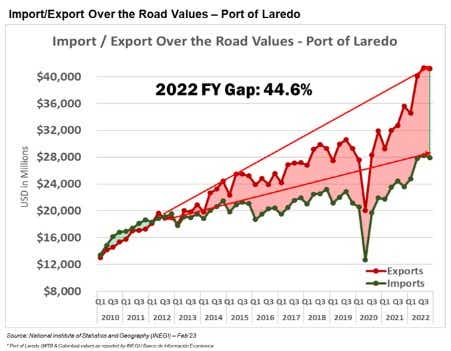 The problems that cross-border shippers face are not going away and are only going to exacerbate over time. If you haven't yet, now is the time to work with your carriers to develop a long-term strategic plan to meet your capacity needs.
About the Market Update
Schneider publishes this regular transportation market update to keep you informed of freight market conditions, supply and demand influencers, and disruptions that may impact your supply chain.
This Market Review Update is intended to provide you with high-level macroeconomic and general industry data that may be relevant to your business. This update should not be used for any other purpose. This update does not state or imply anything about Schneider's performance, results, operations, strategy, projections or plans. The purpose of this update is to relay statistical and relevant facts from various industry professionals. This update does not predict or forecast any economic or industry outcome or results. This update has been prepared on the basis of information made available by third parties; Schneider has not attempted to independently verify any such third-party information.
This report focuses overviews the Transportation Market. View the Market Update focusing on Mexico transportation here.
For the latest information on hurricane season and the impacts on supply chains, please see our weather-advisory page.
Drive your business forward
Sign up to receive our industry leading newsletter with case studies and insights you can put to use for your business.