Shipper | Market updates 1.5 min. read
Laredo No. 1 U.S. gateway for the sixth straight month
Mexico's trade with the U.S. year to date is $462 billion, ahead of Canada at $450.3 billion and China at $322.3 billion.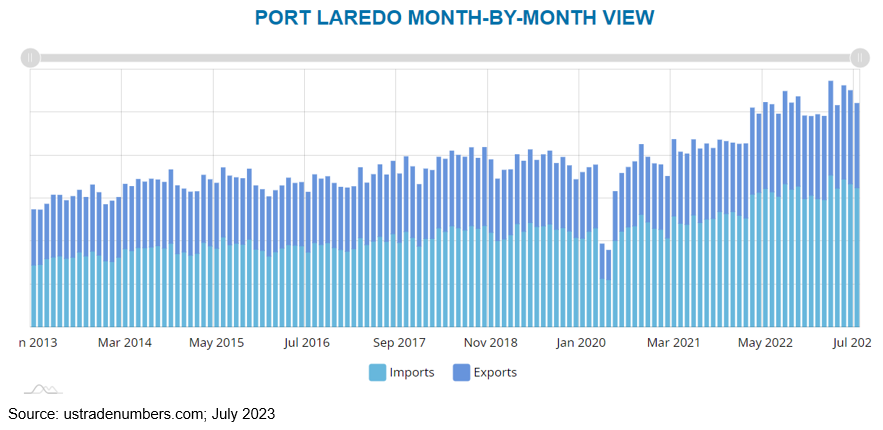 For the sixth straight month, Laredo, Texas, retained the No. 1 spot among the nation's 450 international gateways for trade.

Laredo recorded $26.1 billion in two-way trade during July 2023, with Mexico commerce accounting for $25.4 billion, according to the latest U.S. Census Bureau data. It has accounted for 6.31% of U.S. trade.

The Port of Los Angeles ranked No. 2 with $24.3 billion and Chicago O'Hare International Airport was No. 3 and reported $24.2 billion in trade.

Port Laredo's trade was up 5% year-over-year in July 2023. And year-to-date, Port Laredo's trade is up 9%, totaling $185.49 billion. Through July, 38.62% of that trade was exports and 61.38% was imports.
Port Laredo's top five exports increased 23.76% year-to-date:
Motor vehicle parts (up 23.76% year-over-year)
Gasoline and other fuels (fell 11.86% year-over-year)
Diesel engines (fell 26.97% year-over-year)
Corn (up 2.51% year-over-year)
Catalytic converters, air and oil filters (up 11.54% year-over-year)
Port Laredo's top five imports increased 17% year-to-date:
Motor vehicle parts (up 23.76% year-over-year)
Passenger vehicles (up 8.65% year-over-year)
Tractors (up 26.13% year-over-year)
Commercial vehicles (up 21.33% year-over-year)
Insulated wire, cable (up 12.83% year-over-year)
About the Market Update
Schneider publishes this regular transportation market update to keep you informed of freight market conditions, supply and demand influencers, and disruptions that may impact your supply chain.
This Market Review Update is intended to provide you with high-level macroeconomic and general industry data that may be relevant to your business. This update should not be used for any other purpose. This update does not state or imply anything about Schneider's performance, results, operations, strategy, projections or plans. The purpose of this update is to relay statistical and relevant facts from various industry professionals. This update does not predict or forecast any economic or industry outcome or results. This update has been prepared on the basis of information made available by third parties; Schneider has not attempted to independently verify any such third-party information.
This report focuses overviews the Transportation Market. View the Market Update focusing on Mexico transportation here.
For the latest information on hurricane season and the impacts on supply chains, please see our weather-advisory page.
Drive your business forward
Sign up to receive our industry leading newsletter with case studies and insights you can put to use for your business.