Shipper — Presentation
Mexico Market Transportation Update
Schneider publishes this regular transportation market update to keep you informed of freight market conditions, supply and demand influencers, and disruptions that may impact your supply chain. 
This report is developed by leveraging data and analytics from multiple transportation industry resources.
This report focuses on the Mexico Transportation Market. View the full Transportation Market Update here.
Weather advisory page -- For the latest information on hurricane season and the impacts on supply chains, please see our weather-advisory page.
July 29, 2022 Update - Mexico Transportation Market Update
Laredo Outbound Tender Volumes continue to slow

This chart combines the current year-to-date trend with full year trends from 2018-2021. You will see consistent trends in reduced outbound tender volumes during holidays. More importantly, it shows the sustained length of time that record-level outbound tender volumes have remained.
Compared to the Outbound Tender Volume Index levels during this time in the previous years, current OTVI is -23% lower than 2021 and -16% lower than 2020, but 43% higher than 2019.
As the market continues to evolve, we are here to help. Contact a logistics expert today and read the full transportation market update report here:
Shipping freight cross-border?
Register for our next event: The Cross-Border Capacity Evolution, on August 25, 2022.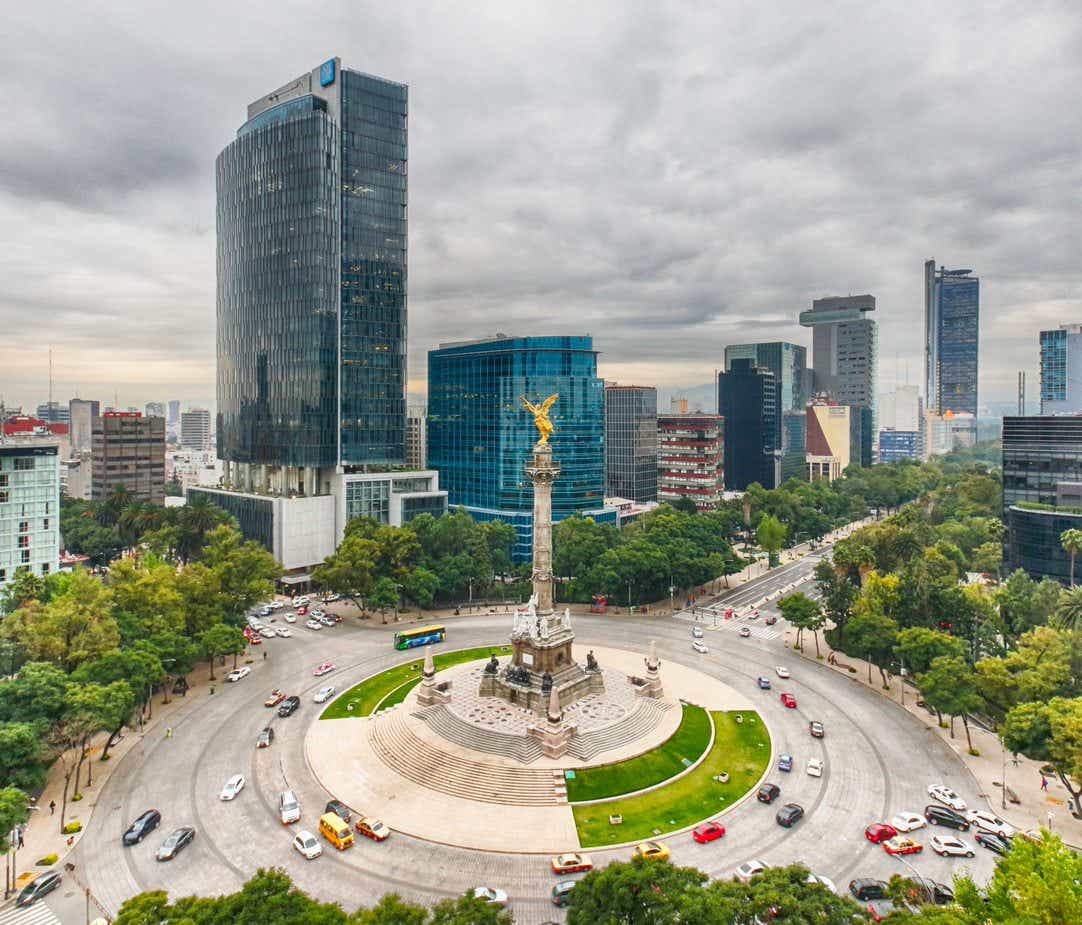 In the news: Are the U.S. and Mexico winning globalization?
The era of globalization could be slowing as companies continue to battle supply chain challenges and nearshoring or reshoring continue to be trends discussed in all sorts of industries. This article shares some recent examples of manufacturers making these changes.
In a move toward nearshoring, California-based toymaker Mattel announced in March it was consolidating all North American manufacturing to its plant in Monterrey, Mexico. It is investing $47 million to expand the Monterrey plant, where it employs nearly 3,500 workers, becoming the company's largest manufacturing site. 
California-based semiconductor manufacturer Intel Corp.'s announcement in January that it was investing $20 billion to build two chip factories near Columbus, Ohio. Construction of the plants is expected to begin later this year, with production coming online at the end of 2025.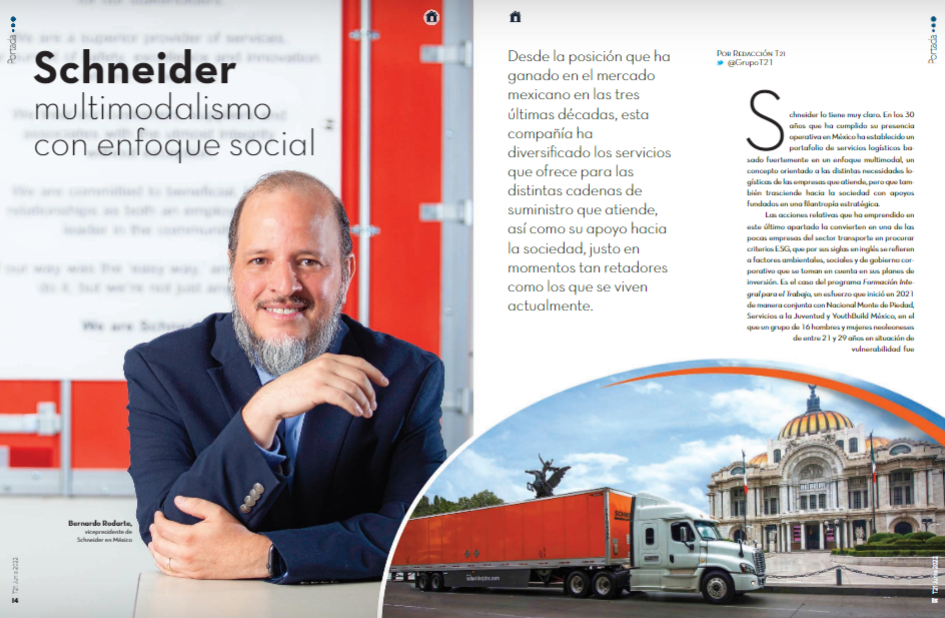 In the news with T21
Schneider was featured in the latest issue of T21. In this article, our Vice President of Mexico Operations, Bernardo Rodarte, discusses Schneider's growth in Mexico over the last 30 years, as well as the multimodal solutions we are solutioning with customers, and our focus on ESG initiatives for our associates, customers and local communities.
Recent study shows American companies are adopting nearshoring/reshoring
Global management consulting firm, Kearney, recently published a report saying that "there are strong indications that attitudes and strategies are changing, thanks to the pandemic, trade wars and tariffs, and ongoing resulting supply chain disruptions. 

"American companies are getting more serious about adopting expanded versions of reshoring. Large portions of offshored manufacturing may soon be returning thanks to companies combining their nearshoring production to Mexico, Central America and even Canada, with manufacturing and assembly in the U.S.," Kearney said.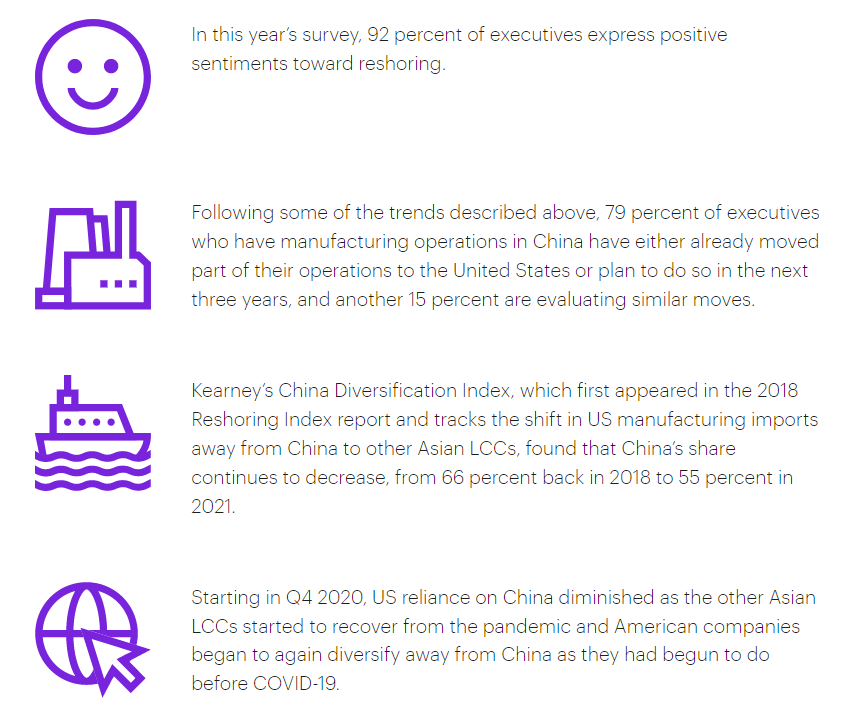 In the news: US Manufacturers
Manufacturers are facing an onslaught of difficult challenges today — but many are finding nearshoring has become the golden solution.
Barbi Reuter, CEO and principal at Cushman & Wakefield affiliate PICOR, serving as 2022 CREW Network global board president, says that bringing jobs back to North America (Mexico), increases predictability and reliability of the supply chain while retaining favorable labor access and costs compared to the US.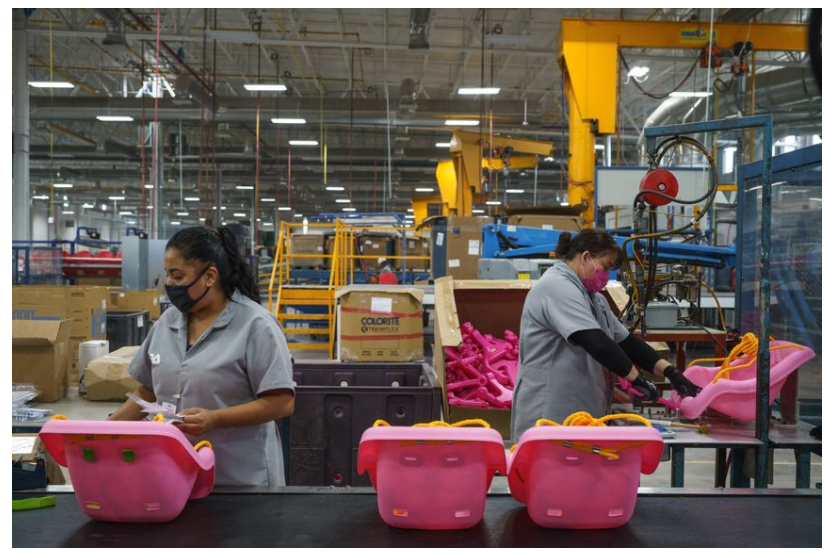 The nearshoring trend has only accelerated during the pandemic. According to data from the Thomas Report State of North American Manufacturing 2021 Annual Report, 83% of manufacturers are likely or extremely likely to reshore jobs, up from only 54% in March 2020, before the pandemic was a factor.
This year's Peak Season still needs to be planned for
Though the market is beginning to soften from 2021, volumes are still competitive with 2018 – 2020. And, despite the fact that many retailers are sitting on inventory, the second half of the year holiday and promotion seasons are upon us.
In an environment where nothing is certain, one thing is – there will always be some level of a Peak Season to meet the holiday and promotion demands of the second half of the year.
Here's your Peak Season Checklist for 2022, to help you expect the unexpected:
Plan ahead

Provide your carriers your forecast as soon as possible, so they can understand the surge you are expecting, and help you to develop the best plan for your freight needs. If your business experiences any sort of surge in freight volumes, your carriers need to prepare behind the scenes to meet your needs.
Leverage strategies like Schneider Capacity StackingSM

By planning ahead with your carriers, those that provide multiple services, like Schneider, can help you to develop the best mode diversification plan to move your freight efficiently and cost-effectively, whether via Van Truckload, Intermodal, Port Services, Brokerage, Dedicated, Bulk or more.
Set up digital connections with carriers

By connecting digitally via API or TMS with your carriers, you will get quick and easy quotes on your freight, saving you time and resources, when you need to move quickly. In addition, we offer Schneider FreightPower® for quick and easy quoting, booking and tracking of your Schneider freight.
In the news: UPDATE: Deadline once again postponed for Mexico new Bill of Lading requirements (Carta Porte al CFDI / Bill of Lading Complement)
The Mexican Tax Authority (SAT) has recently extended the grace period to meet the Carta Porte requirements from March 31, 2022 to September 30, 2022.
The Carta Porte requirements will apply to all cross-border freight.
The Carta Porte requirements require preparation and testing. We have been working with our shippers to proactively determine any additional data needs prior to implementation and are testing the new process. We have seen varying degrees of preparedness from our customers and if you have not started working on meeting these requirements with your Schneider representative, please reach out to them as soon as possible.
Mexico 30th Anniversary Celebration
Our Mexico team and customers recently celebrated Schneider Mexico's 30th Anniversary together at Parque SMP, where they cooked with Grill Masters, enjoyed dinner and live music. Thank you to our customers for your continued business -- we look forward to many more years of working together!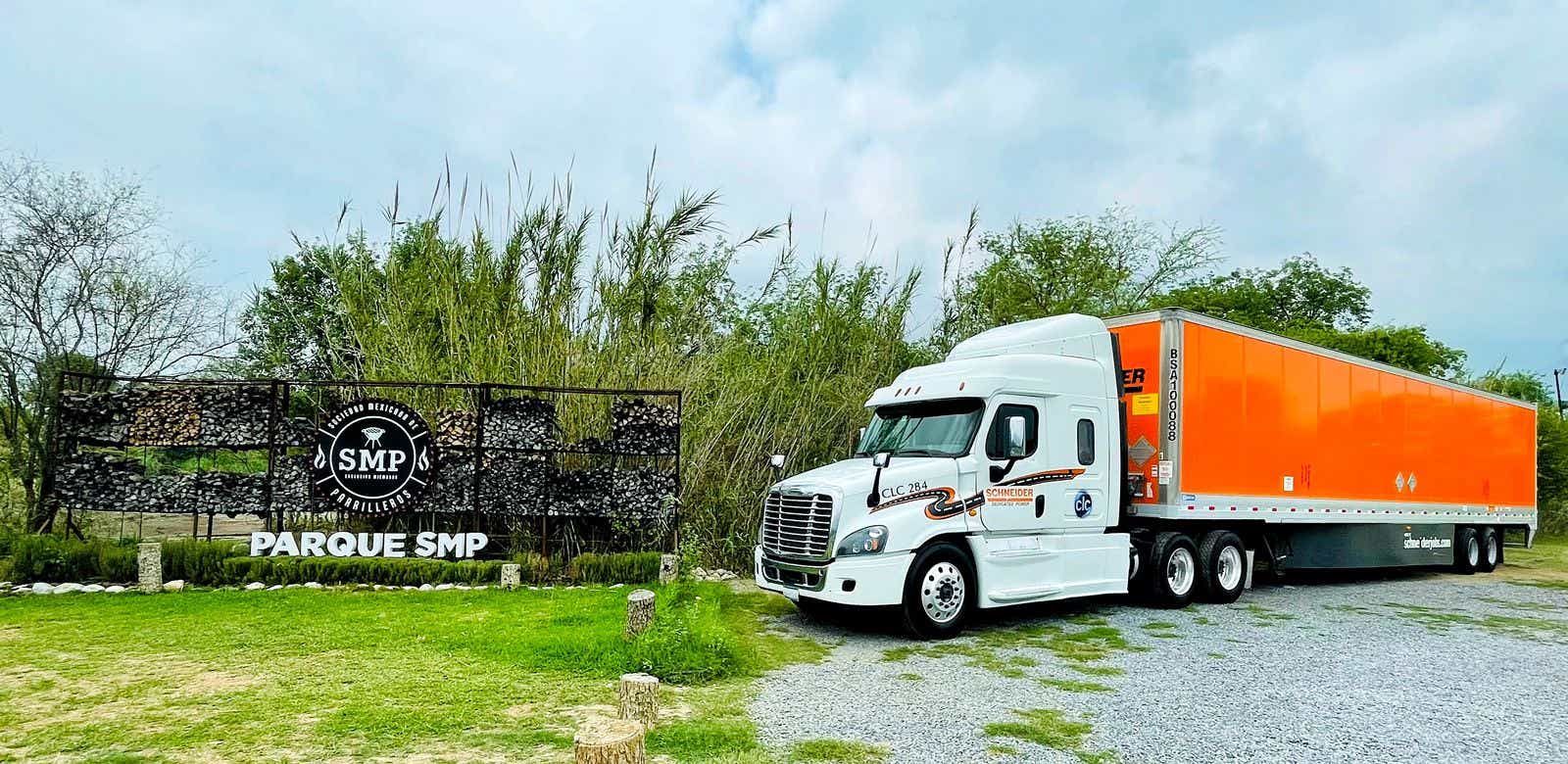 2022 marks 30 years of serving the Mexico market
Schneider offers Mexico cross-border shippers expertise in a difficult market.
More news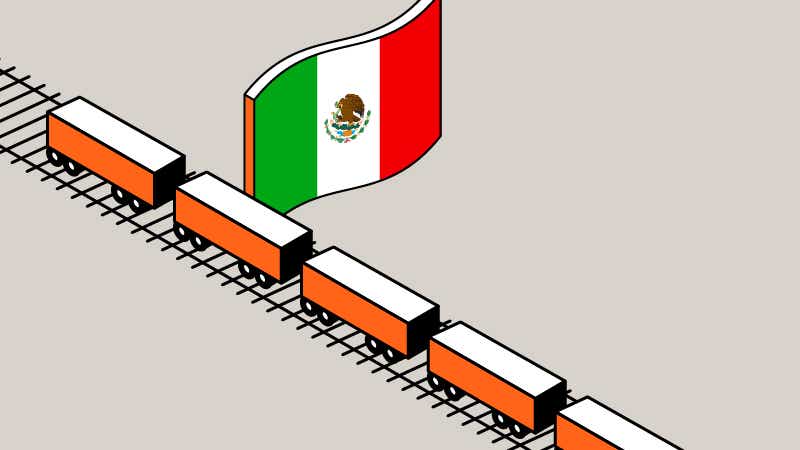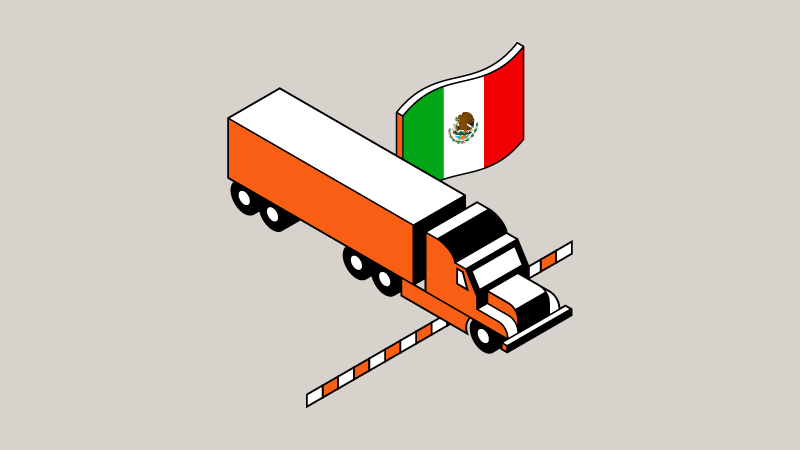 Shipper Case Study
Custom drop trailer solution improves cross-border shipping of PPE
A medical supply company that makes PPE saw an increase in demand due to COVID-19. As part of the manufacturing process, materials and trailers are stored at a facility in Texas and are moved across the border into Mexico for manufacturing. The heightened need for PPE and expedited timeline stressed the supply chain and left the manufacturer unclear how to move forward efficiently.
Drive your business forward
Sign up to receive our industry leading newsletter with case studies and insights you can put to use for your business.