Shipper | Market updates 1 min. read
Upgrades Speed Up Truck Traffic at Border Crossing in Texas
World Trade Bridge capacity will increase by 36%
Four new Free and Secure Trade (FAST) lanes opened recently at the World Trade Bridge crossing in Laredo, TX. This $10.3 million project added the four lanes along with four inspection booths, raising the total to 15 and increasing capacity by 36%.
The U.S. General Services Administration (GSA) and the City of Laredo partnered to provide the funds, infrastructure and technology to complete the 18-month project.


"The World Trade Bridge is a crucial component of both the U.S. and Laredo economies. It accounted for $299.5 billion in trade in 2022, making it the #1 commercial crossing on the U.S.-Mexico border, and the #3 port in the country among more than 450 air, sea, and land ports," said Congressman Henry Cuellar (TX-28).


The World Trade Bridge is one of four bridges in the Port of Laredo. Entry to the U.S. has been congested and has resulted in severe traffic bottlenecks stretching into Mexico due to high commercial truck traffic and the port's physical layout. The new FAST lanes will improve velocity of entries.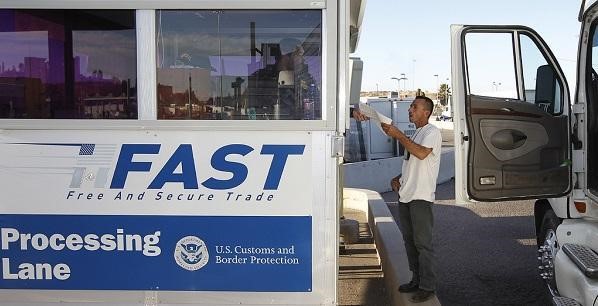 Approximately 2,000 trucks use the FAST lanes cross the World Trade Bridge every day.
"As international trade continues to grow, so does the need for Laredo to adapt to meet these market conditions," Mayor Victor Treviño said. "This program will reduce congestion and expedite safe and secure international trade."
The FAST program was initiated after 9/11 to provide a speedier commercial clearance for known low-risk shipments entering the United States from Canada and Mexico. The program allows expedited processing for commercial carriers that have completed background checks and fulfill their eligibility requirements. Participation in FAST requires that every link in the supply chain, from manufacturer to carrier, to driver, to importer, is certified under the Customs Trade Partnership Against Terrorism (CTPAT) program.


Schneider is a CTPAT and FAST certified commercial carrier. Carriers who are certified with these programs enjoy benefits such as:

Reduced number of U.S. Customs and Border Protection's (CBP) examinations
Front of the line inspections
Shorter wait times at the border
Access to FAST Lanes
Business resumption priority following a natural disaster or terrorist attack
And more


At Schneider, we also compare a FAST Lane to our Non-Stop Intermodal service.



About the Mexico transportation market update
Schneider publishes this regular transportation market update to keep you informed of freight market conditions, supply and demand influencers, and disruptions that may impact your supply chain. 
This report is developed by leveraging data and analytics from multiple transportation industry resources.
This report focuses on the Mexico Transportation Market. View the full Transportation Market Update here.
Weather advisory page -- For the latest information on hurricane season and the impacts on supply chains, please see our weather-advisory page.
Drive your business forward
Sign up to receive our industry leading newsletter with case studies and insights you can put to use for your business.