Schneider shines a spotlight on women in the industry to celebrate Women's History Month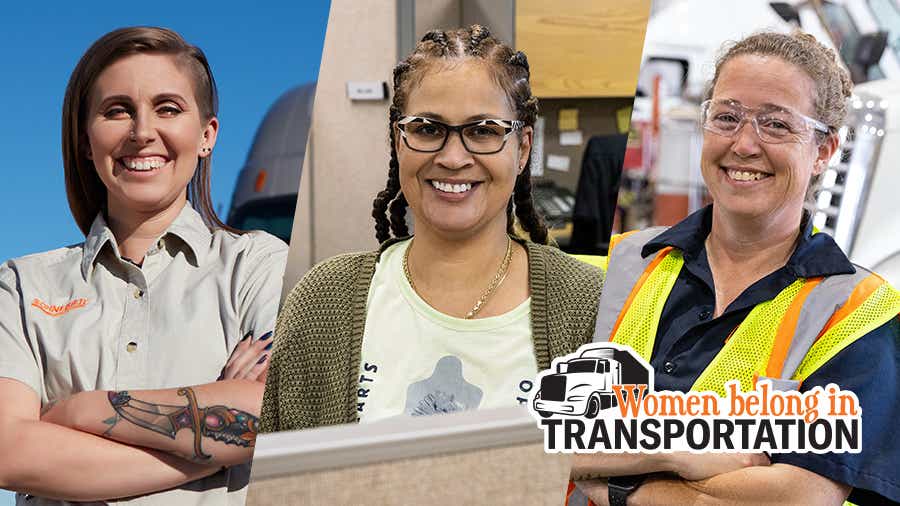 The carrier is committed to continuing to be a leader in empowering women
GREEN BAY, Wis. (March 2, 2022) – Embracing a variety of perspectives, experiences and backgrounds is core to Schneider's efforts to fuel innovation and cultivate leadership. This Women's History Month, the carrier is shining a spotlight on women across the company to showcase opportunity and breakdown barriers in the transportation industry.
Schneider National Inc. (NYSE: SNDR), a premier multimodal provider of transportation, intermodal and logistics services, is also thrilled to share it continues to see an increase in women taking roles as drivers with the company. In 2022, women represented over 12% of the company's driver force compared to a little over 10% in 2021. The company has one of the largest percentages of women drivers among large carriers in the transportation industry.
Drivers like KayLeigh McCall, who also serves as a training engineer at Schneider, found a passion for driving after earning her CDL in 2017. Since coming to Schneider, KayLeigh has felt fortunate to work for a company that facilitates a safe and inclusive culture. In 2022, she was named Women in Trucking's Driver Ambassador.
"Women can and will continue to be successful in the industry," said McCall. "I'm honored to serve in a role to emphasize that it is possible for all generations of women – those new to this profession, those who have been in the industry for a while, mothers, wives and caretakers – to acquire the hard-earned skills necessary and lead a fulfilling career in trucking."
And Patrice Cook, a driver and U.S. Army Veteran, this year became Schneider's first woman Ride of Pride driver and had the honor of delivering wreaths to Arlington National Cemetery in December, a highlight of her career.
"Women not only at Schneider but across the industry deserve to be recognized for the leaps and bounds they've made; it's heartening to have this dedicated time to come together and celebrate our accomplishments," said Patrice.
Schneider is intentional about creating an environment where women can advance their careers with programs like the Schneider Women's Network, a business resource group committed to offering professional development opportunities.
Women make up 40% of leadership roles across the organization. Schneider is excited to see growing numbers of women in driver and leadership positions, a trend the company will work to continue.
This March, Schneider is rallying behind an initiative, 'Women Belong in Transportation', to recognize the achievements of women across the organization, celebrating their successes and giving voice to their diverse stories on social media. The company will be re-sharing social posts from women at the company spotlighting professional achievements they are proud of and showcasing what a career in transportation can look like.
Schneider has been recognized by third-parties like Women in Trucking and Forbes as a leader in increasing accessibility and removing obstacles that have deterred women from entering the industry. This Women's History Month and beyond, the company continues to support and bring attention to opportunities for women in the field.
Follow Schneider on social media to hear more and visit https://schneider.com/company/corporate-responsibility/diversity-equity-inclusionto learn how Schneider supports women in the industry.