A sustainable supply chain is our responsibility
Schneider is focused on reducing greenhouse gas emissions, improving fuel efficiency and changing global operational policies to reduce our carbon footprint. Together we can make a difference and creating a more sustainable future for all.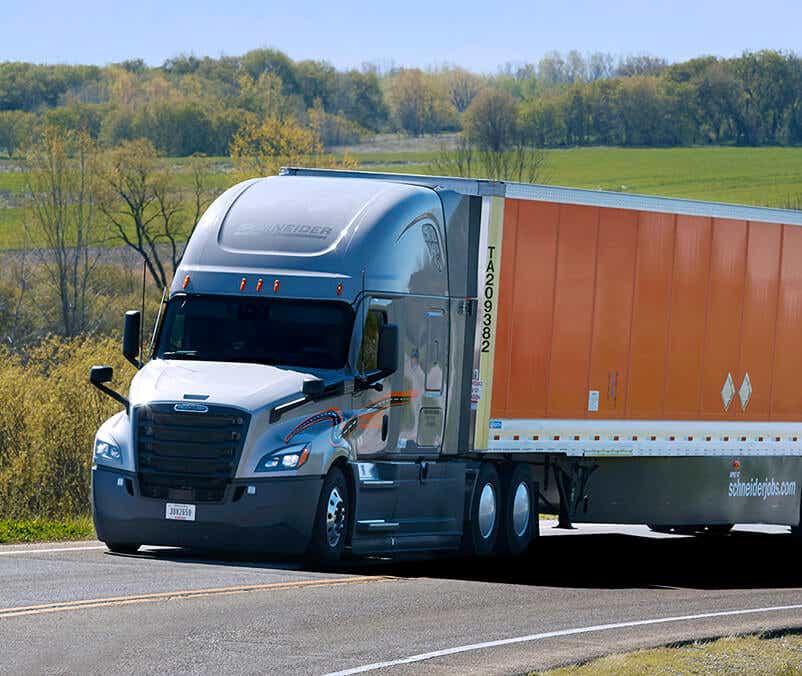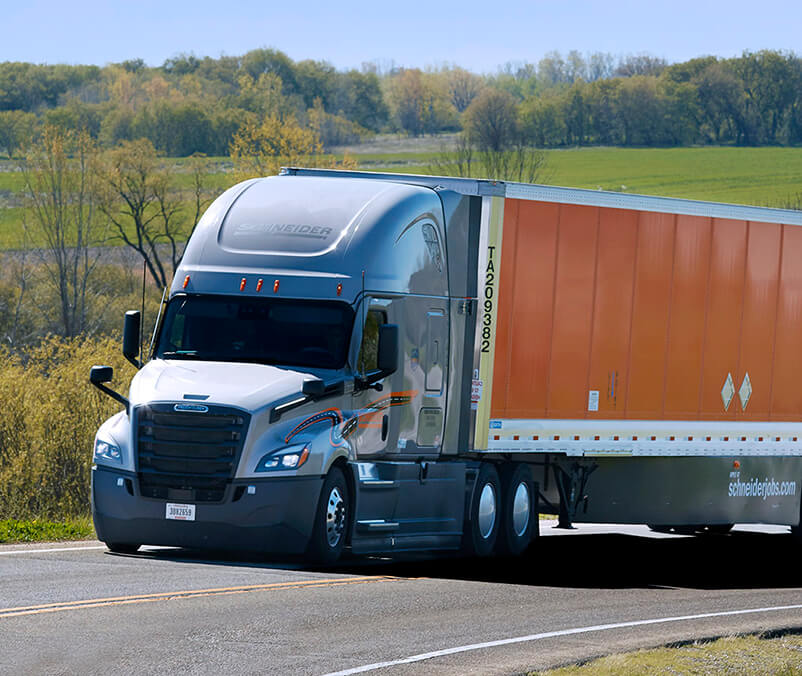 Schneider is one of the most energy-efficient fleets on the road.
Operating an energy-efficient fleet is important to us, our customers and partners. Even though our fleet is already one of the most energy-efficient fleets on the road, we've committed to driving even more efficiency, including:
A commitment to reduce carbon emissions by 7.5 percent per mile by 2025, and a reduction of 60 percent per mile by 2035.
A commitment to doubling Schneider's Intermodal size by 2030, thus reducing carbon emissions by an additional 700 million pounds per year.
A commitment to achieving net zero status for all company-owned facilities by 2035.
Collaborating with the industry to reduce our impact
Schneider is a longtime supporter of the North American Council for Freight Efficiency (NACFE), a non-profit organization dedicated to doubling the freight efficiency of the North American goods movement.
Proud to work with the EPA SmartWay program
In collaboration with the Environmental Protection Agency, Schneider works with the SmartWay program to increase energy efficiency and reduce greenhouse gases and air pollution.
We are an 11-time SmartWay Excellence Award winner – one of only four truckload and intermodal carriers to receive this honor every single year since its inception in 2005. It's important to us to be a consistent leader in the industry, helping to reduce our environmental impact.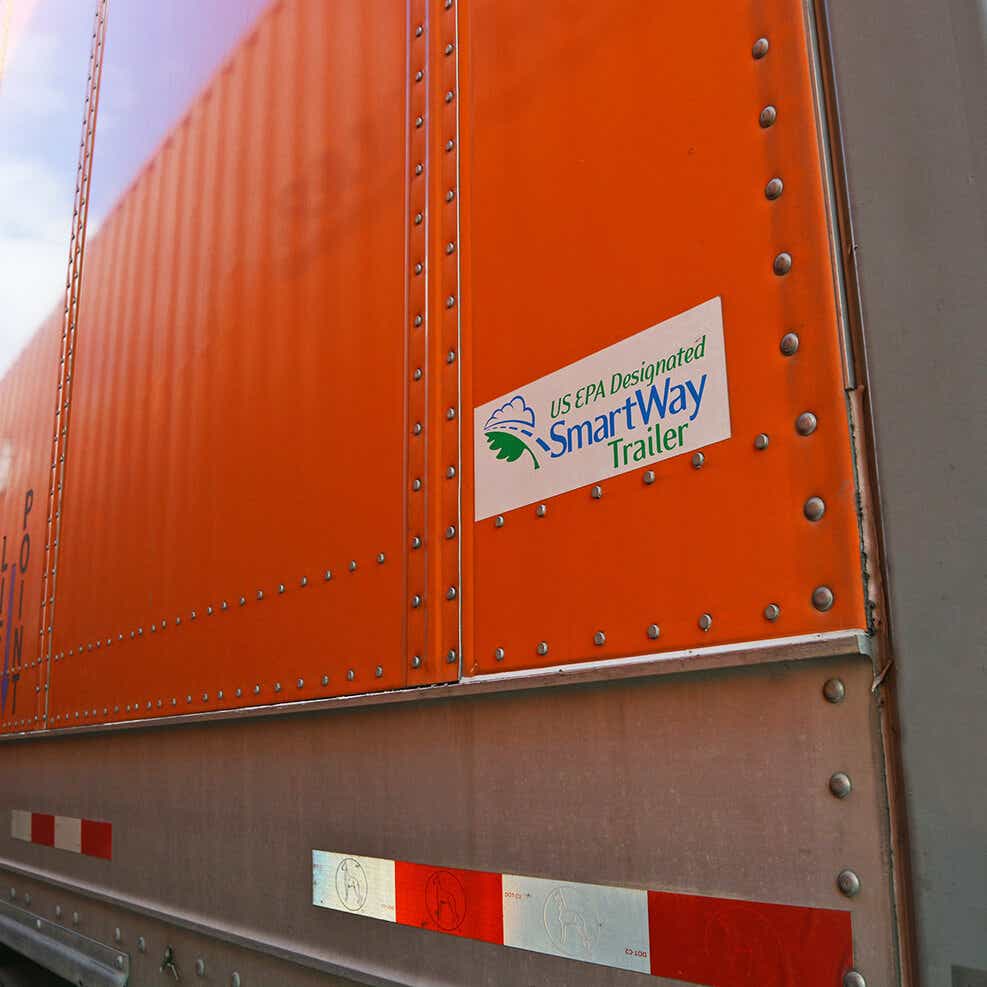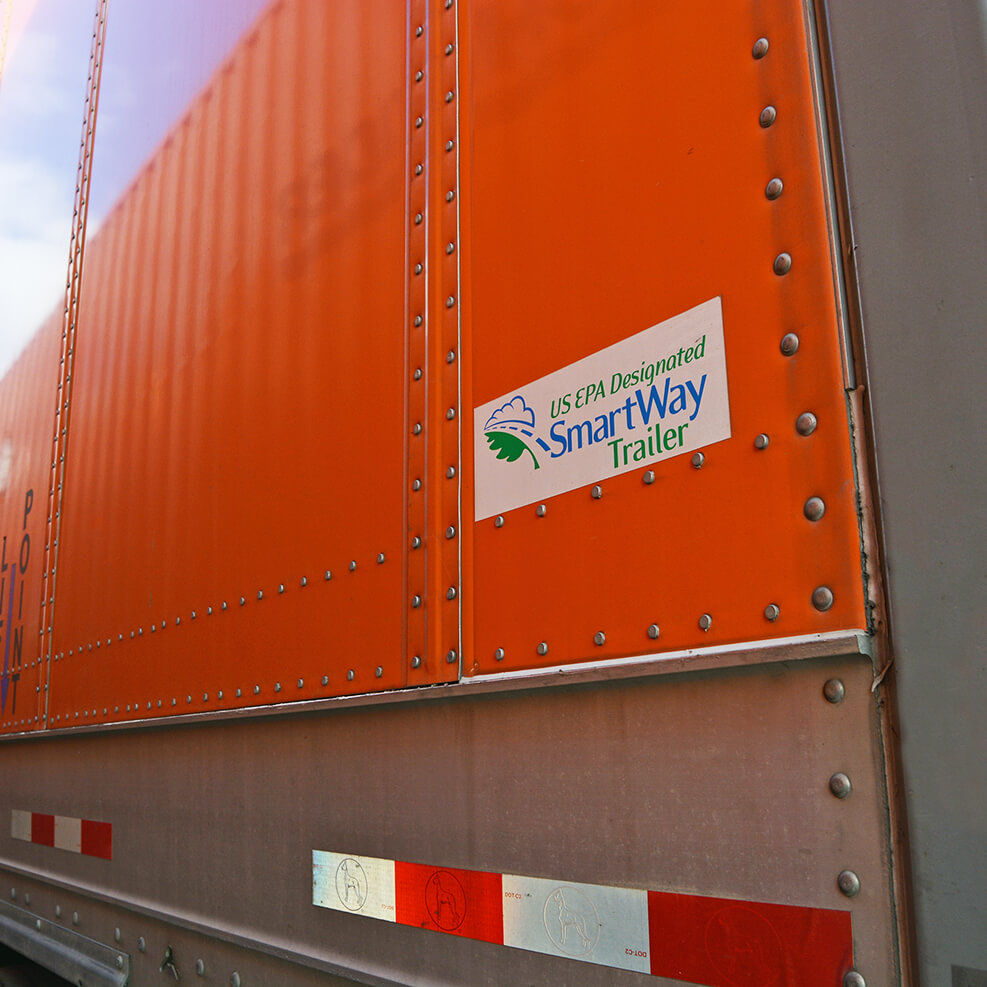 Schneider's Intermodal service aligns with railroads that share our commitment to operating in an energy-efficient manner
Every year, we save 700 million pounds of CO2 by working with railroads that can move a ton of freight up to 500 miles on a single gallon of fuel.
Intermodal transportation provides our customers shipping solutions that help limit their environmental footprint. In 2021, we celebrated 30 years of our investment in intermodal transportation as a sustainable mode of transportation and efficient use of fuel. Our network now has more than 45 ramps with major railroads connecting intermodal containers across the U.S., Mexico and Canada, and we are committed to doubling our size by 2030, thus reducing carbon emissions by an additional 700 million pounds per year.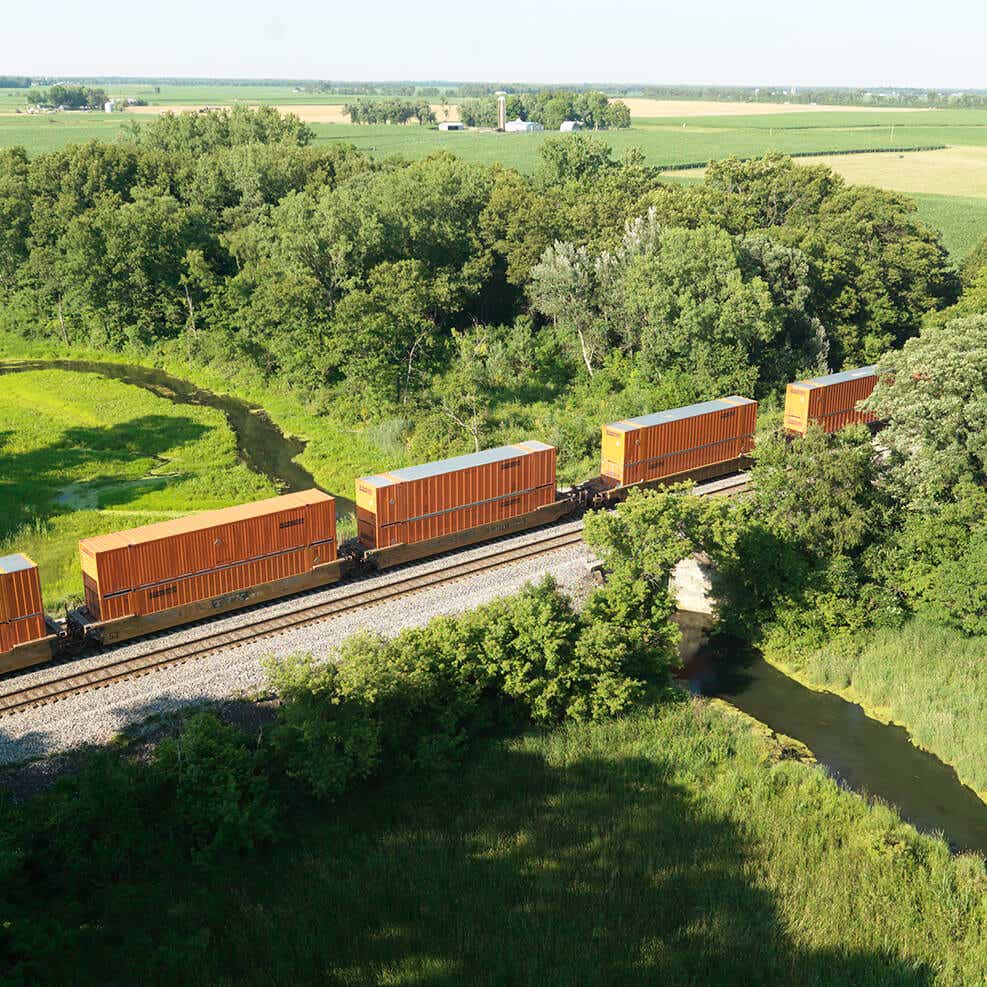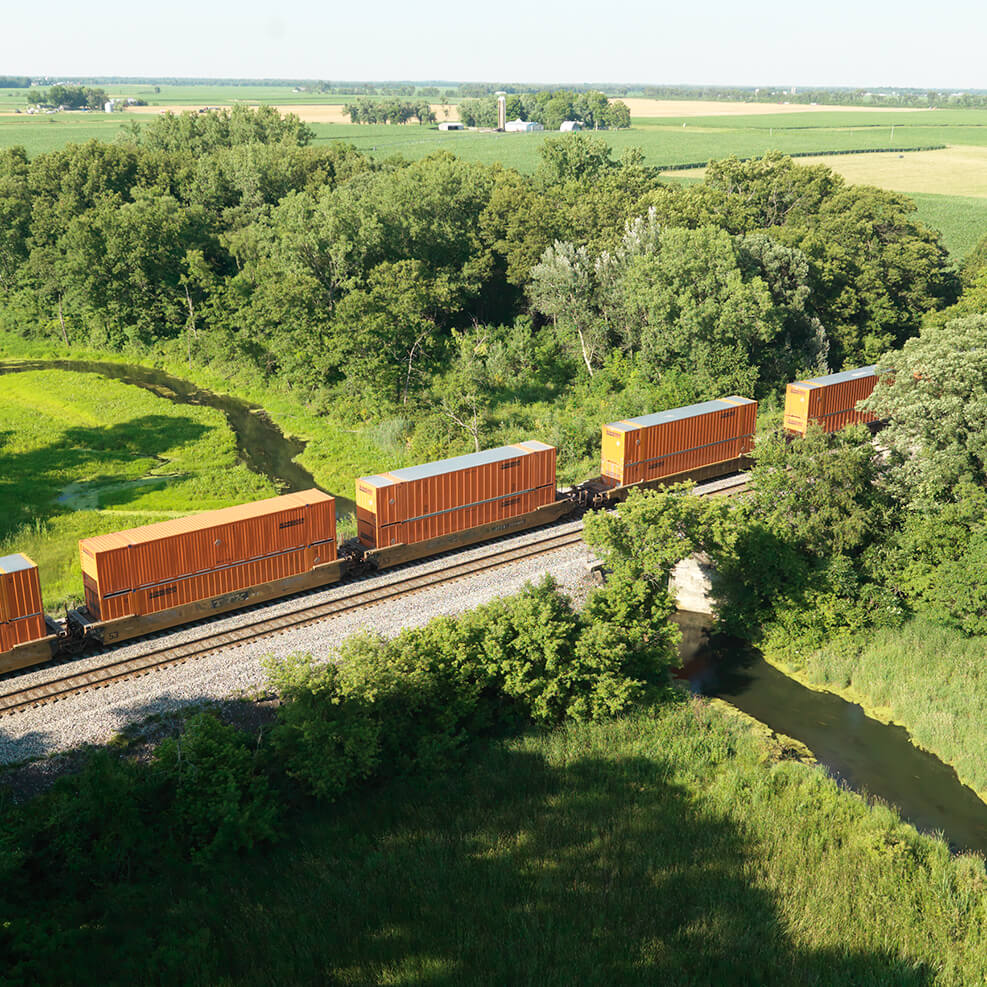 We are pushing for a greener and leaner future​ ​
Schneider is investing in innovative, energy-efficient technology that decreases our overall impact on the environment. Future success is linked to sustainability, and this is particularly true when you depend on a supply chain for growth.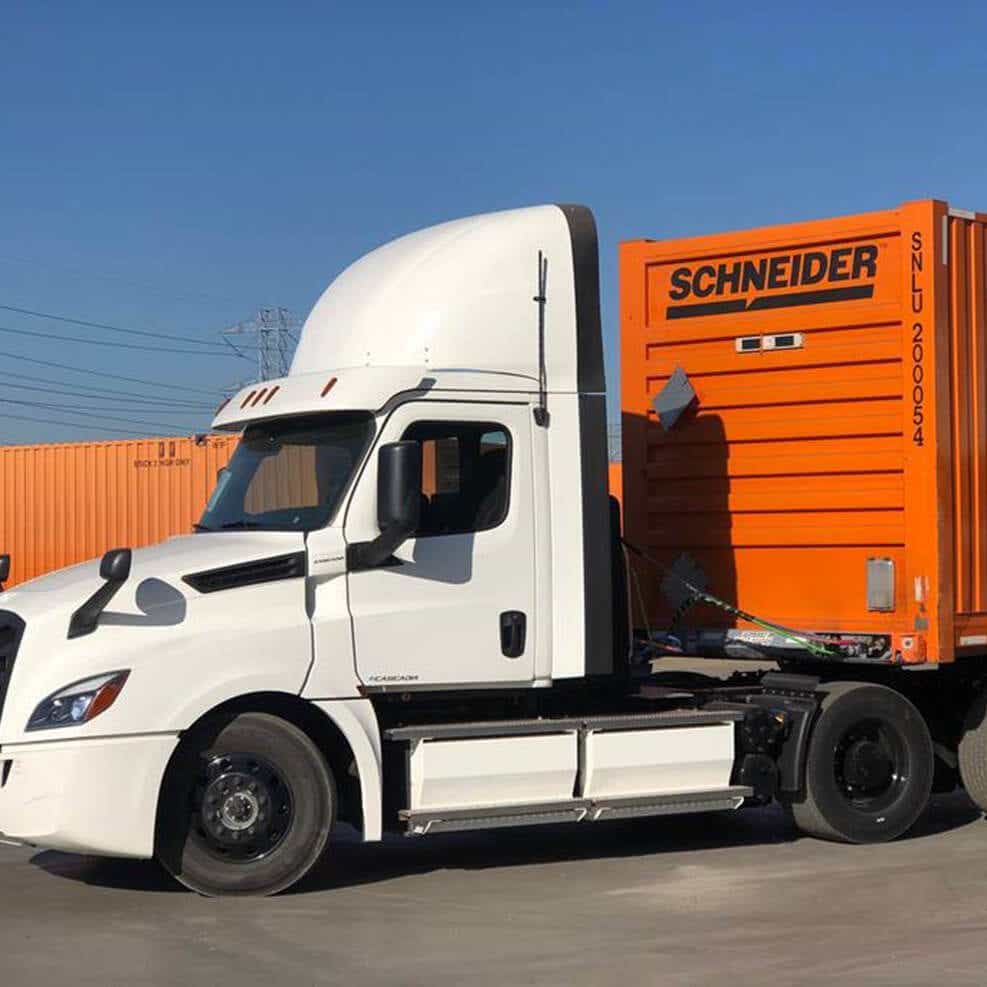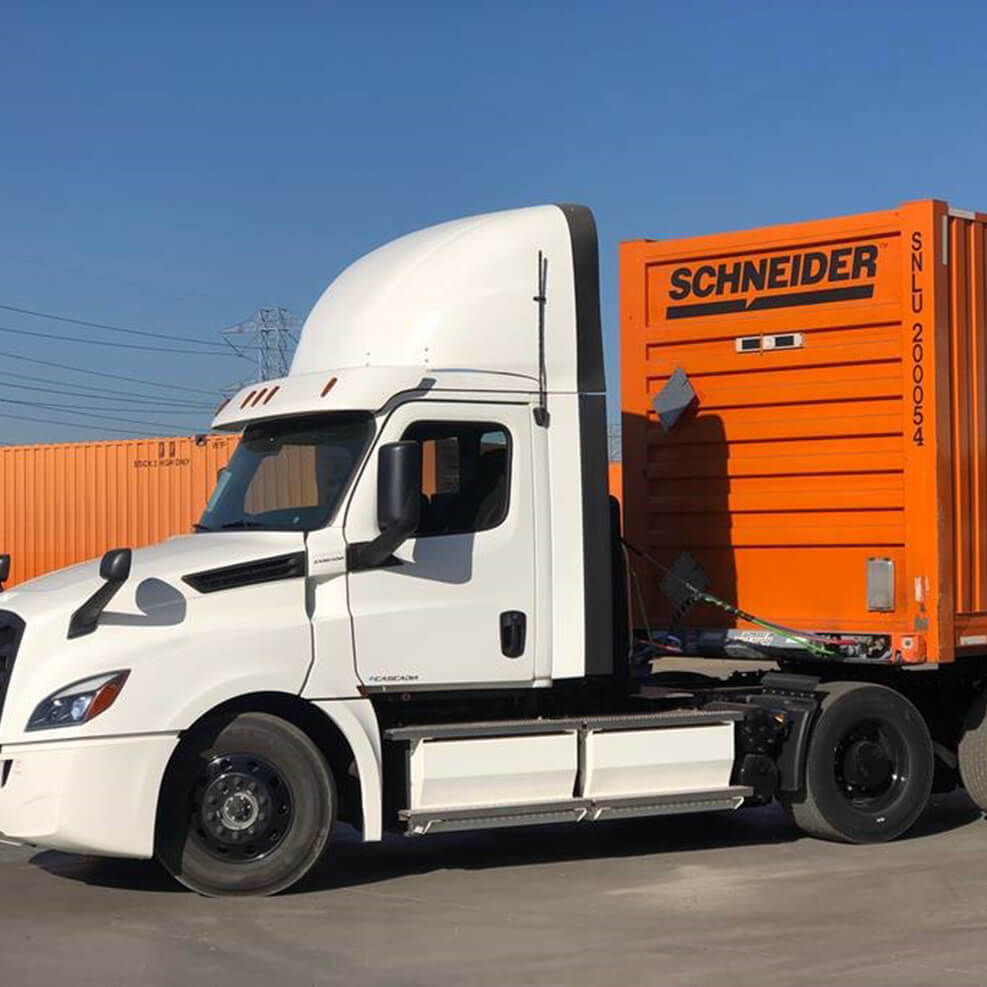 A sustainable future is electric
Schneider is investing and collaborating with our supply chain partners to make that future a reality. We are testing electrified powertrains, developing strategic electric vehicle (EV) adoption plans and building relationships with key stakeholders and industry partners. ​
In 2020, we were selected to participate in the all-electric Freightliner Customer Experience (CX) Fleet. Schneider tested a a Freightliner a battery-electric class 8 eCascadia truck for six months in Southern California, using it for local pickup and delivery.
As a participant, we provided invaluable feedback to Freightliner and enable Schneider to further our plans for large scale deployment.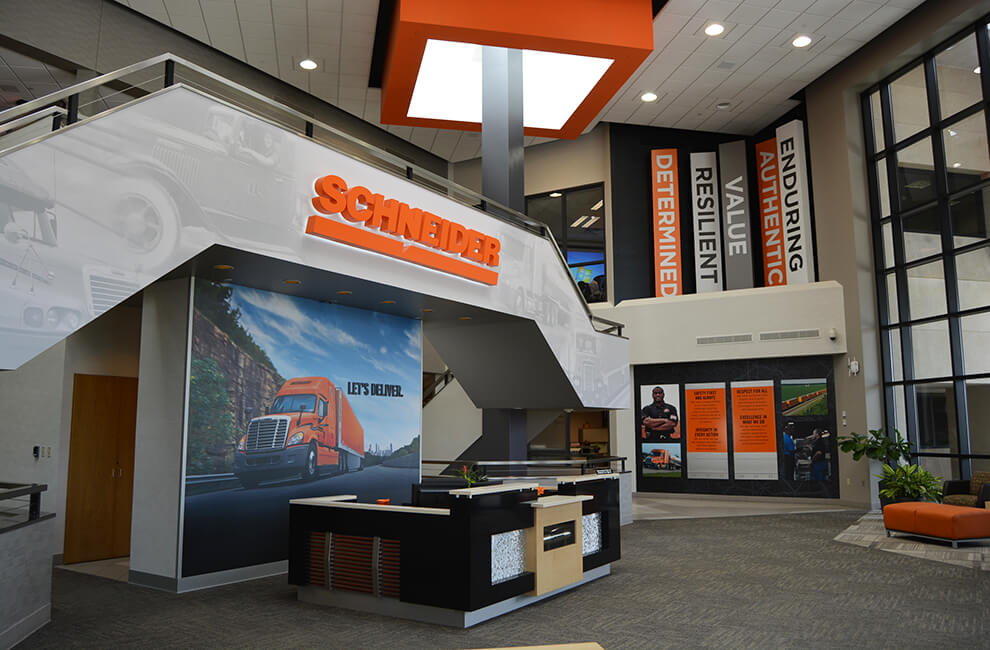 Our commitments extend beyond the road
Schneider's commitment to conserve energy is corporate-wide—from our headquarters to each of our facilities. In addition to ongoing energy audits at all facilities, we've implemented the following:
High-intensity discharge lighting with energy-saving bulbs
Relamping of sites generated 12.5% energy reduction
Corporate recycling program
Commitment to sourcing environmentally-friendly products
Upgraded A/C reduced energy consumption 25% at corporate office
Corporate office window shades designed to reduce heat gain
Built-in capacity for future electric tractor charging