Shipper | Case study 4 min. read
Achieve savings and sustainability with Bulk Express Intermodal
A materials science company optimized its supply chain and moved closer to its sustainability goals with Schneider's Bulk Intermodal service offerings.
Materials science company sets course toward big, green goals
"Going green" has moved beyond being a buzz phrase and is now an integral part of doing good business. A materials science company is doubling down on its conservation commitment, making a name for itself in its sustainable partnerships and carbon emissions benchmarking and tracking.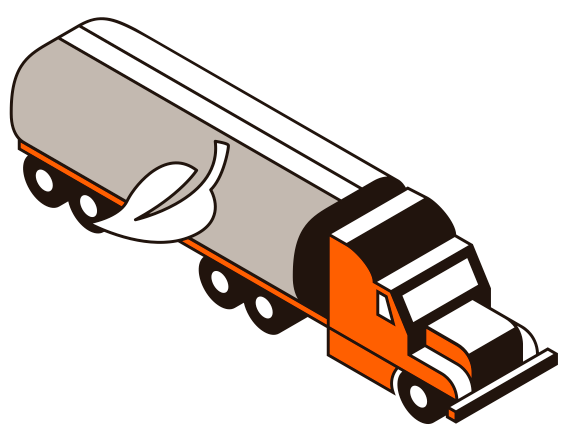 Its goals are to be the most innovative, customer-centric, inclusive and sustainable materials science company in the world. To bring these goals to fruition, the company knows it must invest in industry-leading, sustainable ideas and technology backed by science.
In addition to optimizing its supply chain and actualizing cost savings, the company also aims to reduce its carbon emissions by 5 million metric tons by 2030 and to be carbon neutral by 2050. With those benchmarks in mind, the shipper knew it needed to find a transportation provider that could not only service its network efficiently but also act as a true sustainability partner.
Searching for a shipping solution that reduces emissions
In addition to using bulk service, the shipper's transportation mix has included intermodal over the years, with a primary focus on cost savings. Recently, the company reviewed its processes to see how intermodal transportation can reduce its impact on the environment.
Additionally, many of the shippers' lanes qualify as long haul, which can occasionally be challenging to cover due to the ongoing driver shortage. In an effort to free up long-haul drivers and prioritize sustainable shipping, the shipper made the decision to incorporate more intermodal transportation into its transportation and logistics mix.
When Schneider learned the company was prioritizing sustainability and intermodal transportation, it reached out to discuss its Bulk Express Intermodal service offering. Unlike standard bulk intermodal services that use tank cars, there are no ramp-to-ramp stops, making this option three times faster than rail car alone. Bulk Express Intermodal is a relatively new mode of service in the transportation space — and Schneider is one of the few carriers offering it. The materials science company was intrigued by the advantages Bulk Express Intermodal could offer and excited to learn how the mode could positively impact its business.
Difference-making details of Bulk Express Intermodal
Schneider presented to key stakeholders and business units within the shipper's organization, educating them on the details of Bulk Express Intermodal shipping. Because it's a relatively unknown service, the transportation provider wanted to make sure everyone understood how it differs from standard intermodal service. Schneider highlighted the following benefits:
Up to 50% cost savings compared to over-the-road shipping.
Up to a 50% reduction in the carbon footprint.
No ramp-to-ramp stops like regular freight means freight arrives three times faster than rail car alone.
Less road time means fewer setbacks and frees up drivers for local and regional runs.
The fuel savings from intermodal provide a better rate per mile, per pound.
Schneider also shared the expected reduction in carbon emissions the shipper would experience, which further demonstrated how Bulk Express Intermodal could push the company closer to its sustainability goals.
A close-up look at the unique Intermodal trailer and equipment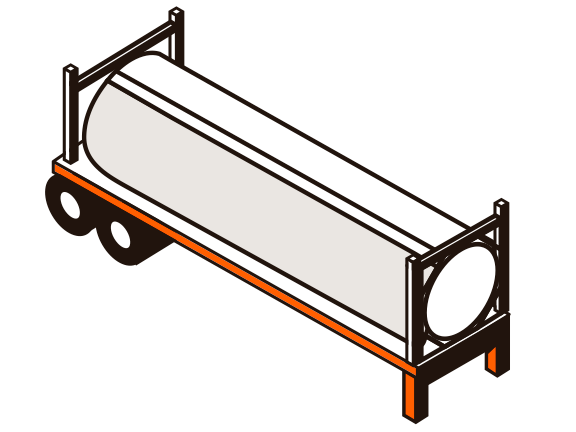 To help the shipper better visualize the unique Bulk Express Intermodal equipment, Schneider sent an empty bulk intermodal trailer to the plant. From there, workers reviewed the trailer to ensure it could be properly loaded with standard equipment. While 20-foot ISO tanks are common in bulk intermodal shipping, Schneider uses 40-foot stainless steel containers. These fit under standard loading racks and on over-the-road chassis, have standard fittings for easy offloading and have a maximum payload of 45,000 pounds. Spending time with the trailer prior to the first shipment helped ensure everyone was comfortable working with the new equipment.
At the conclusion of these key discussions, the shipper issued a formal request for proposal (RFP), but it quickly became clear that Schneider was the right choice to service the business.
Actualizing savings and sustainability goals
In the first six months of implementing Schneider Bulk Express Intermodal, the materials science company has experienced cost savings and saved roughly 93.3 tons of carbon dioxide compared to their previous OTR solution. That equates to 2,145,900 miles driven by a car.
Seeing that amount of success in such a short amount of time has the shipper looking for additional ways to incorporate the service into its network — and further improve its carbon reduction efforts. The shipper wanted a transportation partner to help turn its sustainability pledge into a plan — and it couldn't be happier that it's walking the (green) talk with an environmentally conscious partner by its side.
Want to find out how much carbon and fuel Schneider's Bulk Intermodal solutions could save you per year? Use our Bulk Intermodal CO₂ calculator.
Benefit from Bulk Intermodal Express
Learn how Schneider's Bulk Intermodal Express can help you achieve your cost and sustainability targets.
Drive your business forward
Sign up to receive our industry leading newsletter with case studies and insights you can put to use for your business.