Shipper | Market updates 2 min. read
Advances in autonomous trucking stand out at CES
Autonomous vehicle technology is shifting toward commercial and industrial applications.
New technology set to impact the industry
Development of autonomous trucks and focus on commercial vehicles and supply chain technologies were highlighted at CES 2023. Freight transportation and logistics trends at the show also included investments in e-commerce fulfillment technology and electric-powered trucks.
Despite recent pessimism about autonomous vehicle technology expressed by some analysts and investors, self-driving truck developers at CES emphasized their progress toward commercialization.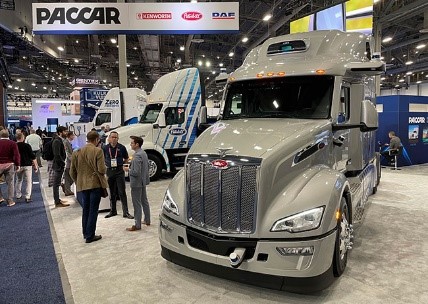 The extensive presence of self-driving truck exhibits at CES illustrated how autonomous vehicle technology — once focused predominantly on passenger cars and ride-hailing services — has increasingly shifted toward commercial and industrial applications in recent years.
Waabi, a new player in the autonomous truck space, exhibited its autonomous driving technology for the first time at CES. The company showcased a Peterbilt tractor outfitted with the Waabi Driver — its software, computing hardware and sensor suite that enable autonomous driving.
A short distance away, Waymo exhibited its full lineup of self-driving vehicles, including a Freightliner Cascadia tractor outfitted with the latest generation of the Waymo Driver. The autonomous vehicle pioneer also showcased self-driving passenger cars going back to its original Firefly prototype developed while the company was still the Google Self-Driving Car Project.
Truck maker Paccar Inc. exhibited three vehicles at the show: a battery-electric Peterbilt Model 579EV, a fuel-cell electric Kenworth T680 and a Peterbilt autonomous demonstration truck featuring Aurora's self-driving technology.
CES continues to expand beyond its original focus on consumer electronics and progresses into the automotive and commercial vehicle technologies.
Schneider always has been – and will be – in the lead at understanding the potential of new technology that can change or impact our industry.
Schneider is working with Aurora and Torc on separate pilot trials to better understand how the technology fits in our operations.
Through pilots, Schneider will help guide the development and ongoing commercialization of autonomous trucks for long-haul applications.
Schneider President and CEO Mark Rourke is often reported saying, "there will always be a need for well trained and safe professional drivers, and it's important that we play a key role in safely developing and testing this technology to be the most prepared."
Transportation Market Update
Schneider publishes this regular transportation market update to keep you informed of freight market conditions, supply and demand influencers, and disruptions that may impact your supply chain.
This Market Review Update is intended to provide you with high-level macroeconomic and general industry data that may be relevant to your business. This update should not be used for any other purpose. This update does not state or imply anything about Schneider's performance, results, operations, strategy, projections or plans. The purpose of this update is to relay statistical and relevant facts from various industry professionals. This update does not predict or forecast any economic or industry outcome or results. This update has been prepared on the basis of information made available by third parties; Schneider has not attempted to independently verify any such third-party information.
This report focuses overviews the Transportation Market. View the Market Update focusing on Mexico transportation here.
For the latest information on hurricane season and the impacts on supply chains, please see our weather-advisory page.
Drive your business forward
Sign up to receive our industry leading newsletter with case studies and insights you can put to use for your business.