Shipper | Market updates 1 min. read
Fleets will need to navigate powertrain options amid green push
Fleet operators will continue to have a variety of truck powertrain choices in the future as stricter emission regulations and shippers' demand for environmentally sustainable freight continues to grow in popularity and concern.
The focus on sustainability pushes fleet operators to think differently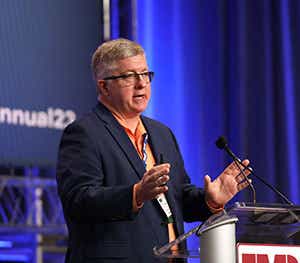 Schneider is taking on the sustainability challenge though the combination of operational improvements and more efficient vehicle technologies.
"Our customers have made sustainability a priority, thus as one of their suppliers we'd better do so as well," said Robert Reich, Schneider's executive vice president and chief administrative officer. "If it's important to the customers, it's got to be important to us."
Schneider has set ambitious sustainability goals. Schneider has already started moving on their goals by adding 90 battery-electric Freightliner eCascadia tractors. Schneider has indicated they are exploring other alternative power sources as well.
About the Market Update
Schneider publishes this regular transportation market update to keep you informed of freight market conditions, supply and demand influencers, and disruptions that may impact your supply chain.
This Market Review Update is intended to provide you with high-level macroeconomic and general industry data that may be relevant to your business. This update should not be used for any other purpose. This update does not state or imply anything about Schneider's performance, results, operations, strategy, projections or plans. The purpose of this update is to relay statistical and relevant facts from various industry professionals. This update does not predict or forecast any economic or industry outcome or results. This update has been prepared on the basis of information made available by third parties; Schneider has not attempted to independently verify any such third-party information.
This report focuses overviews the Transportation Market. View the Market Update focusing on Mexico transportation here.
For the latest information on hurricane season and the impacts on supply chains, please see our weather-advisory page.
Drive your business forward
Sign up to receive our industry leading newsletter with case studies and insights you can put to use for your business.