Shipper | Market updates 1 min. read
International Roadcheck is May 16-18, 2023, with emphasis on ABS and cargo securement
The Commercial Vehicle Safety Alliance (CVSA) has announced that this year's International Roadcheck will be held from May 16-18, 2023.
CSVA announces the dates and focus of vehicle inspections this May
The International Roadcheck inspections are put together and monitored by CVSA each year. CSVA certified inspectors from Canada, Mexico, and the U.S. will monitor and examine commercial vehicles on the road and at weigh/inspection stations.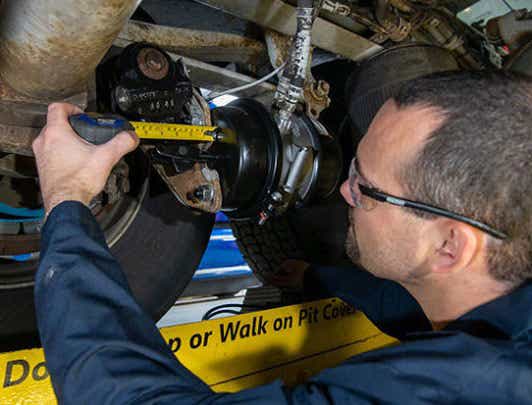 This May, the inspection will focus on anti-lock braking systems (ABS) and cargo securement. Although ABS violations are not out-of-service violations, properly functioning ABS are extremely important for safety and collision prevention. Cargo securement, however, does result in out-of-service violations. In previous years, CVSA reported cargo securement violations in the top five vehicle out-of-service violations.
Inspectors will not only look for anti-lock braking systems and cargo securement but will complete routine roadside safety inspections.
The goal for this event is to ensure vehicle and driver safety. These inspections not only keep the commercial vehicles safe but all other drivers and vehicles that share the road.
About the Market Update
Schneider publishes this regular transportation market update to keep you informed of freight market conditions, supply and demand influencers, and disruptions that may impact your supply chain.
This Market Review Update is intended to provide you with high-level macroeconomic and general industry data that may be relevant to your business. This update should not be used for any other purpose. This update does not state or imply anything about Schneider's performance, results, operations, strategy, projections or plans. The purpose of this update is to relay statistical and relevant facts from various industry professionals. This update does not predict or forecast any economic or industry outcome or results. This update has been prepared on the basis of information made available by third parties; Schneider has not attempted to independently verify any such third-party information.
This report focuses overviews the Transportation Market. View the Market Update focusing on Mexico transportation here.
For the latest information on hurricane season and the impacts on supply chains, please see our weather-advisory page.
Drive your business forward
Sign up to receive our industry leading newsletter with case studies and insights you can put to use for your business.