US Truck Loadings*​
US truck loadings: July recognized a modest increase in US truck loadings from June levels while growth remained flat compared to last year.
The industry is seeing continued muted demand with limited seasonality.

Key indicators

are pointing

to an industry that is seeing little to no growth.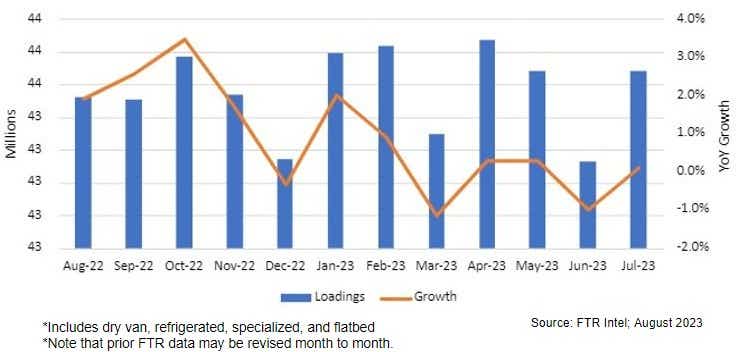 Net change in carrier population​
New for-hire motor property authority minus net revocations of authority
Net change in carrier population: The total carrier population edged down further in July as the industry continues to face heightened operating pressures.
With higher net revocations and fewer new carriers, the count of active carrier operations has

largely been

declining since Oct 2022.

Over the past few quarters,

capacity

has been slowly winding down.

Further increases in fuel costs could accelerate the pace of carrier exists.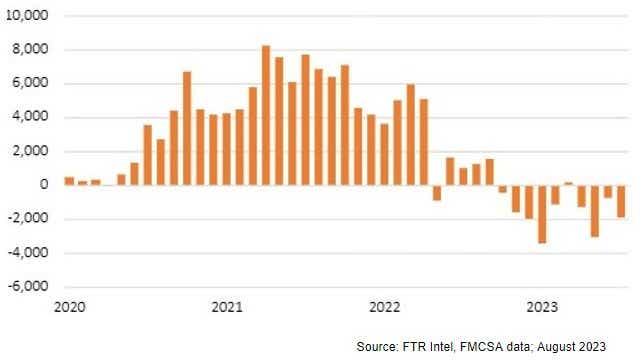 Active Truck Utilization, 2018 - Present​
Share of seated trucks active engaged in freight hauling
Active truck utilization: A moderate uptick in the active truck utilization rate occurred in July, though the share of active trucks continues to be well below levels seen since 2021.
Moderate increase in

utilization

points to tightening in the freight market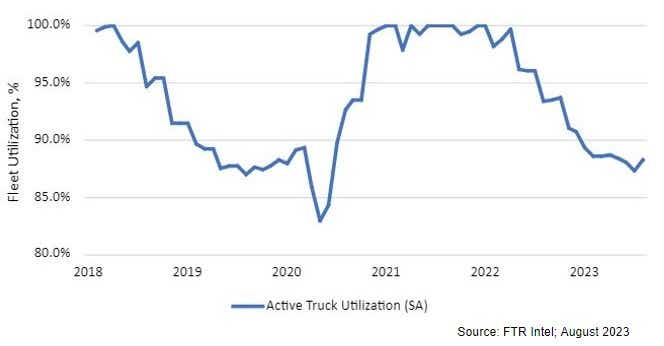 DAT's Van Load-to-Truck Ratio​
DAT Load to truck ratio: August yielded the fourth consecutive increase in the DAT load-to-truck ratio as the industry heads toward holiday peak season.
This could be a reflection of

modest

tightening of supply and demand conditions.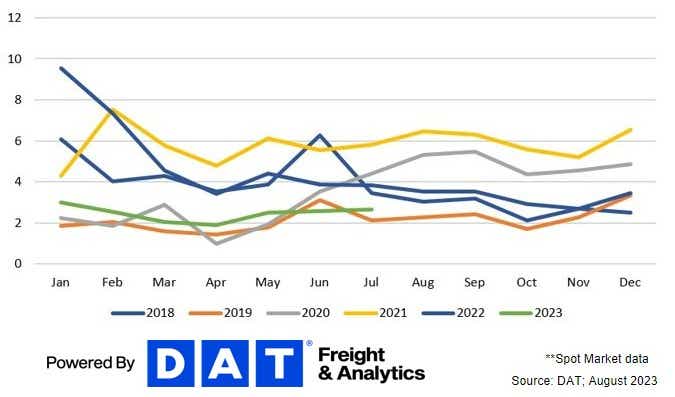 About the Market Update
Schneider publishes this regular transportation market update to keep you informed of freight market conditions, supply and demand influencers, and disruptions that may impact your supply chain.
This Market Review Update is intended to provide you with high-level macroeconomic and general industry data that may be relevant to your business. This update should not be used for any other purpose. This update does not state or imply anything about Schneider's performance, results, operations, strategy, projections or plans. The purpose of this update is to relay statistical and relevant facts from various industry professionals. This update does not predict or forecast any economic or industry outcome or results. This update has been prepared on the basis of information made available by third parties; Schneider has not attempted to independently verify any such third-party information.
This report focuses overviews the Transportation Market. View the Market Update focusing on Mexico transportation here.
For the latest information on hurricane season and the impacts on supply chains, please see our weather-advisory page.
Drive your business forward
Sign up to receive our industry leading newsletter with case studies and insights you can put to use for your business.