Shipper | Market updates 2 min. read
Truck freight routes could be hydrogen fueling station backbone
A national hydrogen mobility strategy is proposed to help replace diesel-powered heavy trucks at major U.S. ports.
Proposed strategy would help the lack of hydrogen refueling infrastructure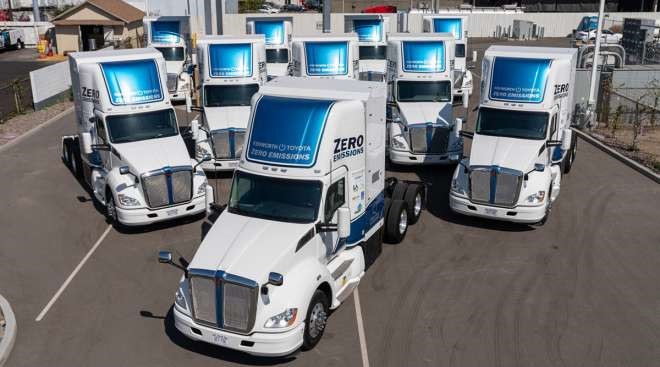 California fuel cell advocates are pushing a national strategy to replace diesel-powered heavy trucks at major U.S. ports. Bill Elrick, executive director of the California government-backed Hydrogen Fuel Cell Partnership noted that the truck market needs a national hydrogen mobility strategy.
Electric battery vehicles relying on the electricity grid and fuel cell vehicles fueled by hydrogen are needed "to take the combustion system out of the equation," Elrick said. "It's not an either or, it's both."
The proposed strategy would help the lack of hydrogen refueling infrastructure, which currently creates a challenge in getting more fuel cell trucks on the road, Elrick added.
Essential elements in a national hydrogen strategy initially would use cross-country truck freight routes, starting at major ports, to create an "infrastructure backbone" for heavy-duty fuel cell vehicles, with light-duty fuel cell consumer market focused in urban areas.
Elrick called hydrogen-powered fuel cell heavy duty trucks a great replacement option for diesel trucks because the refueling behavior is the same: drive into a station, swipe a card, pull a nozzle.
Creating a national hydrogen mobility strategy would establish a central vision with clear objectives: improve communications among stakeholders, coordinate stakeholder investments to ensure a sustainable market and meet economic objectives for all.
Key partners in a national strategy would be regional hydrogen hubs that are being proposed to DOE.
Elrick discussed creating a freight movement vision in California and beyond with market conditions to support 200 hydrogen fueling stations for 70,000 fuel cell heavy duty trucks. This scenario would displace 541.8 million gallons of diesel annually and avoid releasing 18,100 metric tons of nitrogen oxide and 6.7 million metric tons of greenhouse gases yearly.
For more than twenty years, the Hydrogen Fuel Cell Partnership industry/government collaboration has been aimed at expanding the market for fuel cell electric vehicles powered by hydrogen to help create a cleaner, more energy-diverse future with no-compromise zero emission vehicles.
About the Transportation Market Update
Schneider publishes this regular transportation market update to keep you informed of freight market conditions, supply and demand influencers, and disruptions that may impact your supply chain.
This Market Review Update is intended to provide you with high-level macroeconomic and general industry data that may be relevant to your business. This update should not be used for any other purpose. This update does not state or imply anything about Schneider's performance, results, operations, strategy, projections or plans. The purpose of this update is to relay statistical and relevant facts from various industry professionals. This update does not predict or forecast any economic or industry outcome or results. This update has been prepared on the basis of information made available by third parties; Schneider has not attempted to independently verify any such third-party information.
This report focuses overviews the Transportation Market. View the Market Update focusing on Mexico transportation here.
For the latest information on hurricane season and the impacts on supply chains, please see our weather-advisory page.
Drive your business forward
Sign up to receive our industry leading newsletter with case studies and insights you can put to use for your business.