Shipper | Market updates 1 min. read
Laredo Regains Status as No. 1 US Port for February 2023
Port of Laredo Bypasses 450 International Gateways
In February 2023, The Port of Laredo, Texas, went from the No. 1 inland port in the U.S. to the country's No. 1 international trade port overall, beating large cities like Chicago and Los Angeles.
Recent U.S. Census Bureau data shows that the city gained the No. 1 spot among the nation's 450 international gateways for trade in February. It is the first time since February 2020 that the city was designated as the top trade port in the U.S.
Data shows the ports of Chicago O'Hare International Airport ranked No. 2, reporting $22.8 billion in trade, while the Port of Los Angeles ranked No. 3, reporting $17.2 billion.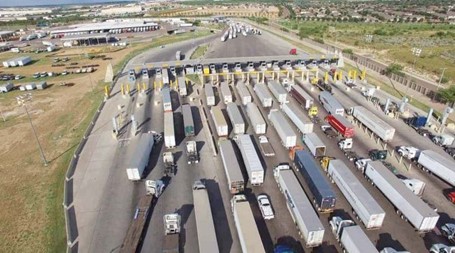 Laredo recorded $24.6 billion in two-way trade overall. Mexico commerce represented a large majority of that trade, with a total of $23.9 billion, highlighting the ties that exist between Laredo and the Mexican economy.
There has been a 12% increase in trade was seen just this past year with Mexico, which contributed to that growth.
Laredo Mayor, Victor Trevino, said that the designation shows how all commerce starts at the border. Trevino believes the two main things that will help sustain this level of trade growth will be the future World Trade Bridge expansion and Colombia bridge improvements, which he considered essential to future growth.

"Our strategic dominance in trade always helps Laredo with requests for more infrastructure dollars from our federal and state agencies," Trevino said. "But we need more to do more. Laredo as the No. 1 inland port of entry, is not just an important commercial lane for Texas, it is an invaluable strategic asset for the entire country. Therefore, the commercial stress on our local infrastructure needs to be alleviated with more state and federal investment."

The growth seen in Laredo also highlights the growth of nearshoring along the U.S.-Mexico border. Trevino says that both governments must invest in infrastructure to continue to support current and predicted growth.
Some suggest that Mexico, which invests less than 1% of its GDP in infrastructure development, should allocate at least 5%. Despite the lack of infrastructure investments, industrial developers and manufacturers are taking advantage of nearshoring and there are more than 400 companies interested in relocating to Mexico.
About the Mexico transportation market update
Schneider publishes this regular transportation market update to keep you informed of freight market conditions, supply and demand influencers, and disruptions that may impact your supply chain. 
This report is developed by leveraging data and analytics from multiple transportation industry resources.
This report focuses on the Mexico Transportation Market. View the full Transportation Market Update here.
Weather advisory page -- For the latest information on hurricane season and the impacts on supply chains, please see our weather-advisory page.
Drive your business forward
Sign up to receive our industry leading newsletter with case studies and insights you can put to use for your business.