Shipper | Market updates 1.5 min. read
Schneider receives first Freightliner eCascadia battery electric trucks
Nearly 100 of the trucks will be used in the Southern California Intermodal operations.
Electric trucks will help shippers meet sustainability goals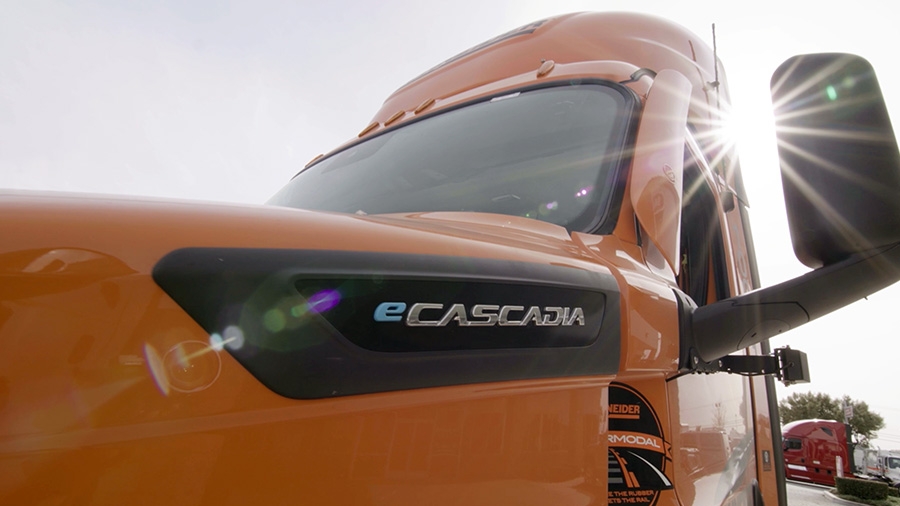 Schneider recently received the first of almost 100 Freightliner eCascadia class 8 battery electric vehicles (BEV) that will be used in their Southern California Intermodal operations. These trucks are manufactured by Daimler Truck North America, at their Portland, Oregon plant.
According to the Environmental Protection Agency (EPA), transportation contributes to nearly 30% of greenhouse gas emissions, and 26% of those emissions are from medium- and heavy-duty trucks. Many shipper organizations have aggressive sustainability goals to achieve, therefore transportation and supply chain are essential to achieving those goals.
Schneider has a long history of leading in sustainable supply chain and transportation solutions. For the 13th consecutive year, Schneider has been recognized by the EPA as a SmartWay High Performer, leading the industry in producing more efficient and sustainable supply chain transportation solutions.
As leaders in the topic, Schneider works with customers to review network optimization, reduce empty miles, consolidate freight and pick the right mode of transportation. Schneider is looking forward to offering customers a cleaner mode of shipping that fits into their overarching emissions reduction goals.
The addition of these trucks to the fleet significantly increases the number of zero-emissions heavy-duty trucks available for goods movement while achieving necessary emission reductions. The new eCascadias have the potential to avoid over 81,000 pounds of carbon dioxide emissions per day and over the course of a year that is equivalent to removing 2,400 gas-powered cars from the road. The electric trucks are also essential to the company's own sustainability goals of reducing CO2 per-mile emissions by 7.5% by 2025 and 60% by 2035.
Schneider is already familiar with electric vehicle technology, having piloted an eCascadia for 6 months through Freightliner's Customer Experience fleet.
Schneider is tracking to become one of the largest battery electric truck fleets in North America and expects all 92 BEVs to be operational in its fleet by the end of 2023.
About the Transportation Market Update
Schneider publishes this regular transportation market update to keep you informed of freight market conditions, supply and demand influencers, and disruptions that may impact your supply chain.
This Market Review Update is intended to provide you with high-level macroeconomic and general industry data that may be relevant to your business. This update should not be used for any other purpose. This update does not state or imply anything about Schneider's performance, results, operations, strategy, projections or plans. The purpose of this update is to relay statistical and relevant facts from various industry professionals. This update does not predict or forecast any economic or industry outcome or results. This update has been prepared on the basis of information made available by third parties; Schneider has not attempted to independently verify any such third-party information.
This report focuses overviews the Transportation Market. View the Market Update focusing on Mexico transportation here.
For the latest information on hurricane season and the impacts on supply chains, please see our weather-advisory page.
Drive your business forward
Sign up to receive our industry leading newsletter with case studies and insights you can put to use for your business.