Shipper | Market updates 1 min. read
The U.S./Mexico northbound/southbound gap continues to grow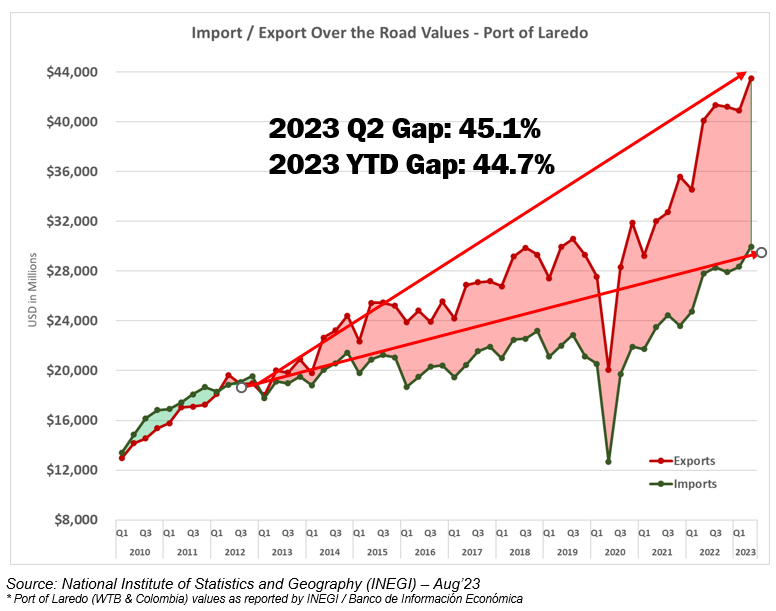 H1 2023 Mexico Import/Export statistics continue to show the gap growing
The National Institute of Statistics and Geography in Mexico, known as INEGI, has recently released import / export values for the first half of 2023 reaching 44.7%. The Gap grew by 256 basis points versus the same period in 2022. 
Exports grew 13.0% vs same period in 2022

 

Imports grew 11.0% vs same period in 2022

 
To put that in perspective – for every southbound shipment into Mexico, there are close to double that amount flowing northbound to the U.S. This can be much greater in specific markets, such as Monterrey and Saltillo.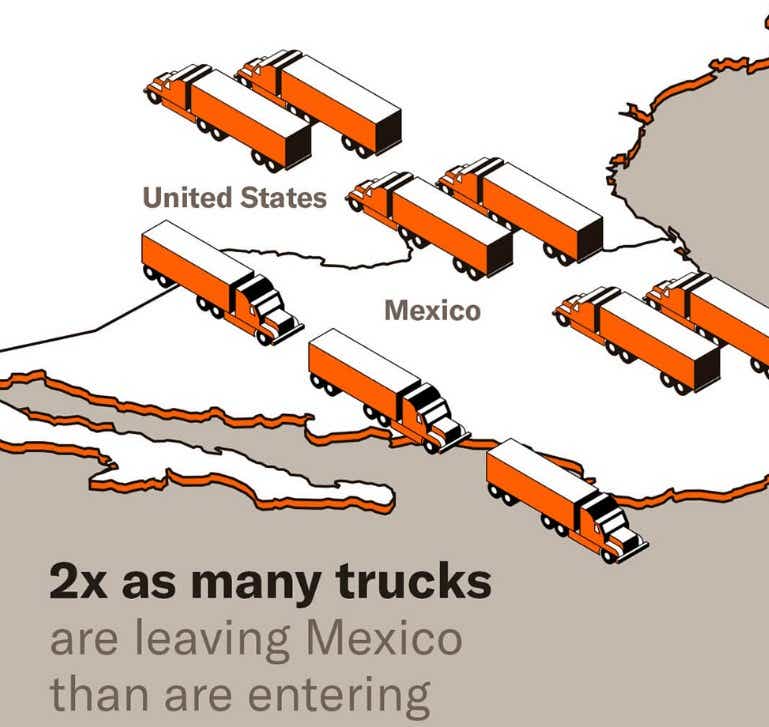 2022 went down in the books as one of Mexico's best years in terms of capturing Direct Foreign Investments (FDI). FDI, which totaled $35.3B, grew 12% versus 2021. The manufacturing sector captured 36% of the total investments followed by the transportation sector with 15%.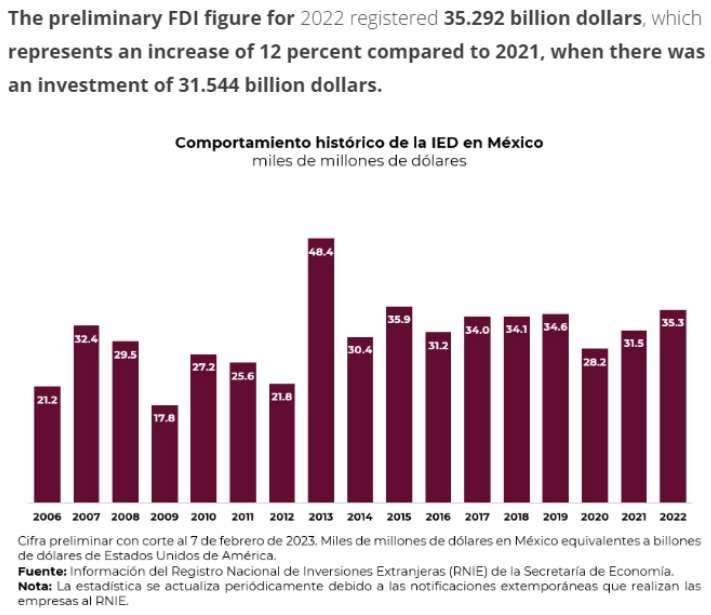 10 years of growth trends
The INEGI data shows us the growth trends over the past 10 years, but especially highlights the spike in activity since 2021.
The problems that cross-border shippers face are not going away and are only going to exacerbate over time. If you haven't yet, now is the time to work with your carriers to develop a long-term strategic plan to meet your capacity needs.
Evaluate your network and locations to see where it makes sense to have a nearshoring location or warehouse. Schneider makes this easy by providing network engineering and consulting services to help organizations visualize, design, optimize and implement resilient supply chains.
Plan ahead for transloading and warehousing needs. Schneider's Laredo cross-border transloading facility makes taking your freight across the U.S. and Mexico border seamless, allowing you to leverage our customs brokerage, distribution and cross-border expertise to keep your freight moving.
Determine the best mix of capacity options to increase cross-border supply chain resiliency. Schneider offers customers many options through Schneider Capacity StackingSM. Stack solutions by utilizing multiple modes, adding dedicated solutions or dynamic pricing solutions. We look at your network and capacityneeds to help you optimize your organization's stack.
Work with transportation providers that are experienced in cross-border transportation. Schneider has more than 30 years of experience in the Mexico market and transporting freight across the border.
About the Mexico transportation market update
Schneider publishes this regular transportation market update to keep you informed of freight market conditions, supply and demand influencers, and disruptions that may impact your supply chain. 
This report is developed by leveraging data and analytics from multiple transportation industry resources.
This report focuses on the Mexico Transportation Market. View the full Transportation Market Update here.
Weather advisory page -- For the latest information on hurricane season and the impacts on supply chains, please see our weather-advisory page.
Drive your business forward
Sign up to receive our industry leading newsletter with case studies and insights you can put to use for your business.